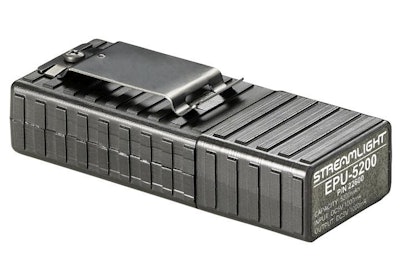 Streamlight Inc., provider of high-performance lighting and weapon light/laser sighting devices, introduced the EPU (Electronic Power Unit) 5200, a portable auxiliary power source designed to offer instant charge power for the company's growing line of USB flashlight products. The power unit can be used to charge a variety of smartphones, iPads, tablets and other electronic devices when a wall outlet is not available. It also features an integrated LED for backup lighting.
Super lightweight yet rugged and durable, the EPU-5200 features 5200mAh of power capacity for convenient recharging of most USB products with micro-USB input, providing 4 full charges for the Streamlight ClipMate USB; the Streamlight Stylus Pro USB and the Streamlight Double Clutch USB and 2 full charges for the Streamlight ProTac HL USB. It also provides a range of one-half to 3 full charges for most smartphones and tablets. Four blue LEDs display battery level status.
"The EPU-5200 offers the ultimate in convenience for safely recharging lights in Streamlight's USB flashlight category, as well as many of the smartphones, tablets and other electronic devices used by today's mobile professionals," said Streamlight Vice President, Sales and Marketing, Michael F. Dineen. "It's a great backup power source for tactical, first responder, industrial personnel and consumers alike. And its built-in flashlight is convenient for use when traveling, to illuminate a car or door lock, or for illuminating a path in darkness."
The EPU-5200 uses a 3.7V, 5200mAh Lithium Polymer battery with a safety control circuit to provide more than 500 charging cycles. The power unit can be charged by connecting its Micro USB port to most USB sources and fully recharges in 8 hours using a Streamlight AC/USB wall adapter.
The unit is operated by means of a multi-function, pushbutton switch. To charge an attached USB product, the user presses and releases the switch, which automatically turns off when charging is complete. The flashlight provides 250+ hours of illumination.
Featuring an ultra-durable engineering polymer housing, the EPU 5200 weighs 5.4 ounces, and measures 4.45 inches long, 1.83 inches wide and 1.04 inches high. It has an IPX7-rated waterproof design to 1 meter for 30 minutes when its cover is installed, and is impact-resistance tested to 2 meters. The installed cover also protects against inadvertent turn-on and battery drain of the device.
Available in black, the EPU 5200 is packaged with a removable pocket clip and a 5-inch USB 2.0 A (male) to micro-USB cable. It has an MSRP of $54 and includes Streamlight's Limited Lifetime Warranty.
Based in Eagleville, Pa., Streamlight, Inc. recently marked 40 years of making tough, durable, long-lasting flashlights designed to serve the specialized needs of professionals and consumers alike. Since 1973, the company has designed, manufactured and marketed high-performance flashlights, and today offers a broad array of lights, lanterns, weapon light/laser sighting devices, and scene lighting solutions for professional law enforcement, military, firefighting, industrial, automotive, and outdoor applications. Streamlight is an ISO 9001:2008 certified company. For additional information, please call 800-523-7488, visit www.streamlight.com or connect with us on www.facebook.com/streamlight; www.twitter.com/Streamlight; and www.youtube.com/streamlighttv.