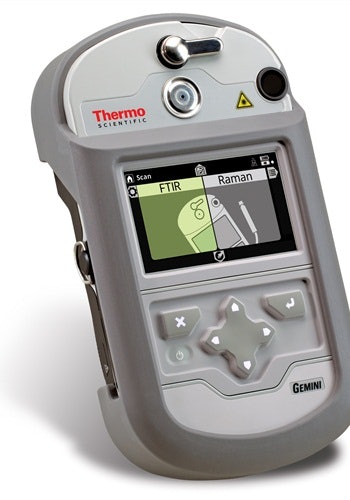 First responders tasked with identifying unknown chemicals and explosives in the field can now employ a new portable analyzer combining both FTIR and Raman spectroscopy in a single handheld instrument for a faster, more confident response. The Thermo Scientific Gemini analyzer is the first to integrate these complementary and confirmatory chemical identification techniques in a rugged, handheld instrument.
Building upon the Thermo Scientific TruDefender (FTIR) and FirstDefender (Raman) product lines, the Gemini analyzer requires minimal training and is easy to use. The Gemini's lightweight design makes it ideal for chemical response personnel, explosive ordnance disposal (EOD) technicians, and other responders burdened with heavy equipment for lengthy missions.
"Ten years ago, this level of analytical rigor and specificity was only possible inside a lab – with instruments that were far from portable," said Maura Fitzpatrick, senior director, portable analytical instruments, Thermo Fisher Scientific. "Today, we're redefining portable instrumentation with a two-in-one analyzer that is small enough for field use, giving military and first response personnel a tremendous tactical advantage – helping them minimize time on target and confidently make life-saving decisions."
The Gemini analyzer includes an extensive library that enables operators to identify unknown solids and liquids, from explosives and chemical warfare agents to industrial chemicals and precursors. By leveraging both Raman and FTIR analysis, the Gemini analyzer takes advantage of the strengths of each technology to address a broader range of samples than either technique alone. For substances identifiable by both Raman and FTIR, the Gemini analyzer provides comprehensive analysis, delivering more actionable information to the operator. Switching between analysis techniques is fast and easy using the tactical keypad or touchscreen.
The Thermo Scientific Gemini analyzer also offers:
An intuitive interface, including customizable profiles and Scan Assist, to guide the operator through technology selection and sampling;
A motorized anvil that adjusts sample pressure based on user settings and enables Scan Delay for FTIR analysis;
Built-in safety features designed to increase protection from potentially hazardous substances; and
24/7 reachback support, with Ph.D.spectroscopists available for spectral analysis and operational inquiries.
More information on the Thermo Scientific Gemini analyzer can be found at www.thermoscientific.com/gemini.