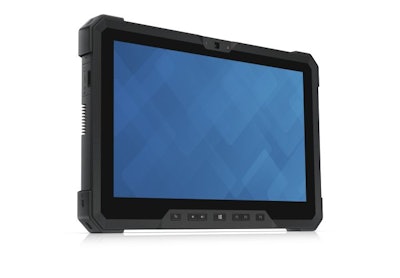 Dell today announced the new Latitude 12 Rugged Tablet, Dell's first fully rugged tablet designed for performance and reliability in the harshest conditions. Boasting state-of-the art design and function, this new tablet is the most recent addition to the innovative Dell Rugged portfolio that includes the Latitude 12 Rugged Extreme flip-hinge convertible notebook, the Latitude 14 Rugged Extreme notebook, and the Latitude 14 Rugged notebook.
Designed specifically for users requiring a tough yet flexible device to take with them on-the-go, the Latitude 12 Rugged Tablet features a crisp 11.6 inch Direct-View outdoor-readable HD display with gloved-enabled multi-touch capabilities. For peak performance in the most severe temperatures, the Rugged Tablet comes pre-packaged with Fourth Generation QuadCool thermal management and powerful, efficient Fifth Generation Intel Core M processors. The Rugged Tablet has up to 12 hours of battery life with two 2-cell batteries.
For reliability and manageability, the Rugged Tablet also features solid state storage up to 512GB and connectivity anywhere with 802.11ac Wi-Fi as well as an optional mobile broadband and dedicated GPS. The tablet delivers the confidence of overall data and device security with Dell Data Protection and available Intel vPro and Intel TPM 1.2.
In addition to empowering customers to be more mobile whatever the conditions, the tablet features a durable pogo-pin docking interface for modular component expansion when needed and the ability to pair with an extensive ecosystem including desk dock, vehicle dock and keyboard. The optional full-size keyboard cover for the Rugged Tablet has a customizable RGB backlight and an IP-65 rating to protect against water and dust intrusion.
"Dell Rugged devices are critical to many industries including military, emergency response, public safety, industrial work, scientists and even adventurers. It's important for Dell's Latitude Rugged devices to provide superior computing power and the mobile capabilities they require to accomplish their jobs," said Drew Moore, executive director and general Manager, Rugged Mobility Products at Dell. "Whether it's a first responder to an emergency or an avid outdoorsman scaling an untouched summit for the first time, Dell's Latitude 12 Rugged Tablet is built to deliver the performance they need, wherever they need it, without worrying about what their environment throws at them."
Support from Dell, such as ProSupport Plus for PCs and Tablets, keeps Dell devices healthy. ProSupport Plus for PCs and Tablets is the industry's only complete support service combining priority access to expert support, accidental damage repair, and proactive, predictive monitoring for automatic issue prevention and resolution, according to Dell. With the solution customers spend up to 84% less time on technical support calls and take up to 58% fewer steps to resolve common hardware issues than key competitors so customers spend more time innovating and on what matters most, says the company.
The Latitude 12 Rugged Tablet will be available on Dell.com in the U.S. by the end of July. You can see the tablet in action here, Dell's Rugged portfolio here, and follow @DellRugged and #DellRugged on Twitter.
About Dell Dell Inc. listens to customers and delivers innovative technology and services that give them the power to do more. For more information, visit www.dell.com.