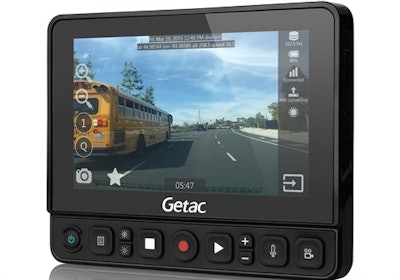 Getac, a leading manufacturer of rugged computers, announced today its release of the Veretos Mobile Video System (MVS). The Veretos MVS is an in-car mobile video recording system engineered for use in law enforcement vehicles to capture all activities in and around the vehicle as they happen. Designed for superior performance, expandability and ease of use, Getac's Veretos MVS incorporates several advanced features including extreme low-light video recording, secure and redundant recording capabilities, a high-resolution display that is 2.5x the resolution of its nearest competitor, and built-in WiFi enabling easy video transfer with optional 4G LTE wireless. The complete MVS kit includes a ZeroDark HD camera for front mounting, 5-inch display control unit, backseat camera, wireless microphone, cables and video software. The new mobile video system is available through certified Getac Veretos resellers.
"Getac's new Veretos Mobile Video System represents more than 25 years of R&D combined with the evolving voice of our customers," said Rick Hwang, president of Rugged Solutions Business Unit at Getac. "Veretos provides law enforcement officers with an effective way to capture, save and archive video content to accurately preserve all activities as they happen. As law enforcement activities become further scrutinized, it is imperative to have a reliable system to clearly and accurately capture events."
ZeroDark HD Camera
The ZeroDark HD camera can capture detail in illumination levels as low as 0.03 lux, nearly complete darkness. This is critical for law enforcement officers who work in rural unlit areas. With a powerful 18x zoom feature, ZeroDark far exceeds the International Association of Chiefs of Police (IACP) standard of 10x. ZeroDark's high-definition resolution ensures ultra-sharp, highly detailed video output.
Powerful, Secure DVR
The Veretos MVS features the most robust in-car digital video recorder capabilities available on the market today. The standard front-facing camera records video in widescreen high-definition format using H.264 compression. The system is designed to capture multiple camera sources simultaneously using different encoding standards for security and redundancy.
Veretos is a highly customizable solution that can be configured to support numerous trigger points (lights, siren activation, door, AUX input, crash, speed and microphone functions) enabling automatic recording of critical events. This is especially important in situations where emergencies and life-threatening environments require immediate action and manual activation would compromise officer safety. Additionally, the system has numerous event logging options to categorize videos for matching to a department's video retention policy or to tag a spot within a video as an event marker, such as when evidence is tossed from a moving vehicle.
With Veretos, video and data from multiple camera sources are easily saved to solid-state storage and then are off-loaded to a local server or a secure cloud via WiFi or optional 4G LTE. When needed, video can be pulled via a standard USB flash drive by an authorized department employee. The Veretos DVR unit is smaller than most competitive units, making for a compact footprint to help with mounting in any vehicle.
"Getac's new Veretos in-car mobile video system combines the company's world-class rugged hardware with IRSA's powerful police video management system," said Richard Zak, director of Justice and Public Safety Solutions for Microsoft. "Adding available video storage on the Azure Government cloud platform means that law enforcement agencies can leverage the cloud with government-validated support for CJIS compliance."
Large 5-inch HD Display
At 800x480, the resolution of the Veretos display is 2.5x the resolution of any other MVS system currently on the market. With a 5-inch display, it is also the largest display with a 33% larger viewable area compared to that of the nearest competitor.
The modern and intuitive Veretos User Interface was designed for maximum ease of use. The spacious touchscreen displays large, easy-to-use buttons needed for real-world usage in a fast-paced environment.
Built-In WiFi
The Veretos MVS comes equipped with the latest high-speed 802.11ac WiFi and an external antenna port to support roof-mounted, high-gain antennas for an even faster and stronger connection to the station. The WiFi function also allows unit configuration settings and system updates to be pushed automatically to vehicles.
The Veretos MVS can also be equipped with 4G LTE cellular data capabilities for live streaming and instant upload of recorded events. With 4G LTE, authorized users can view live video from any vehicle maintaining an active data connection, and when bandwidth is low, image snapshots are available.
Advanced and Intuitive Software
The Veretos user interface was designed to be familiar and intuitive, providing ease of use for the officer. The software takes advantage of the 5-inch touchscreen display with big buttons that provide easy access to functions such as zoom, audio inputs, incident classification and video playback.
Local Storage or Cloud Storage
The Veretos solution also supports complex event logging and classification as well as flexible video data storage and management options. Evidence can be uploaded locally to a server behind department firewalls, or users can leverage the Microsoft Azure Government cloud platform.
Management Software
The Veretos system uses one of the most powerful backend video management tools in the industry built by IRSA Video. The highly scalable software provides dashboard overview, media management and remote management of an entire fleet of Veretos systems. Additionally, Veretos Enterprise was built with options to handle any type of digital media.
"Partnering with Getac has allowed us to develop one of the most comprehensive in-car mobile video systems solutions in the industry," said Tom Guzik, CEO of IRSA Video. "Being able to develop the ZeroDark camera, DVR and display in tandem with the IRSA software provides agencies with unmatched clarity, quality, ease-of-use and functionality integral to capturing video evidence."
Reliable and Rugged
Being permanently mounted in a vehicle, the MVS will be subject to the same extreme temperatures, vibration and shock as Getac's rugged computers encounter. As such, the Veretos MVS is built to Mil STD-810G specifications to guarantee it will work when needed. Additionally, unlike competitive offerings, the system has a built-in battery to ensure videos are recorded and uninterrupted by a sudden change in voltage from a cold weather start or the loss of power from a traffic collision, helping to confirm that the evidence isn't compromised.
The system also has redundant recording capabilities. Veretos provides a built-in pre-record function that captures an event as it occurs and locks it in when the trigger is activated. The system always records automatically. This "black box" functionality enables users to easily access evidence from the past.
Veretos MVS is a complete solution. Each kit comes with a high-definition DVR, ZeroDark HD camera, 5-inch display, backseat camera, high-quality wireless microphone, software, cables and basic mounting accessories and will be sold through Veretos Certified Resellers in the U.S. and Canada. For more information, visit veretos.com.