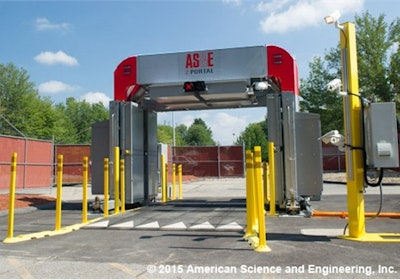 American Science and Engineering, Inc. (AS&E), a leading worldwide supplier of X-ray detection solutions, has introduced the next generation Z Portal system, the only drive-through cargo and vehicle inspection system that uses multiple detection technologies to provide up to six views of scanned passenger vehicles, trucks, buses, and cargo. The new Z Portal system incorporates AS&E's latest source and detector innovations in a more compact design, enabling improved image quality along with higher throughput even in space-constrained locations.
"The integration of dual-energy transmission with our proven Z Backscatter and Forwardscatter technologies in the next generation Z Portal system is another example of our commitment to innovation to solve customers' real-world inspection challenges," said Chuck Dougherty, AS&E's president and CEO. "This multi-technology solution delivers even greater visibility into scanned objects — at higher scan speeds and in a smaller footprint — giving our customers the most comprehensive detection in a single, drive-through platform."
The next-generation Z Portal system builds on the success of AS&E's Z Portal system, currently in operation at ports, borders, airports, and high-threat facilities worldwide. With over 100 systems sold to customers such as NATO, U.S. Department of Defense, U.S. Customs and Border Protection, Taiwan Aviation Police, and Abu Dhabi Customs, the Z Portal system supports vital security and customs missions by assisting in countless seizures of drugs, contraband, weapons, and stowaways.
Z Portal system enhancements include the following:
Enhanced Detection Capability – The Z Portal system's new, innovative detector design brings improved detection capability to the system by capturing dual-energy transmission images in addition to its Forwardscatter and signature Z Backscatter images. This unique combination of technologies provides superior material discrimination while also highlighting organic and metallic anomalies, giving operators more information about the contents of the vehicle and enabling them to find more threats and contraband.
Higher Throughput Screening – The next generation Z Portal system allows for increased vehicle speeds of up to 12.4 mph (20 km) and high-throughput screening of up to 400 passenger vehicles or 250 trucks per hour. The innovative X-ray source assembly design enables the higher throughput rates without sacrificing image quality, giving ports and borders an ideal solution for primary or secondary screening of cargo and vehicles.
Compact, Efficient Design –AS&E's newly redesigned system fits into existing traffic lanes and easily integrates into diverse customer sites. A wide array of optional features and operating concepts allows for adaptation to each customer's unique workflow and security requirements. Installation and relocation is simplified by the innovative surface-mount design, which eliminates the need for extensive civil works construction. The compact system is available in two configurations — one for large trucks, buses, and cargo vehicles and a smaller size for passenger vehicles — and is safe for drivers, operators, scanned cargo, and the environment.
American Science and Engineering, Inc. (AS&E) is a global provider of threat and contraband detection solutions for ports, borders, military, critical infrastructure, law enforcement, and aviation. With over 50 years of experience, AS&E offers proven, advanced X-ray inspection systems to combat terrorism, drug smuggling, illegal immigration, and trade fraud. AS&E systems are designed in a variety of configurations for cargo and vehicle inspection, parcel inspection, and personnel screening. Using a combination of technologies, these systems provide superior detection capabilities, with high-energy, dual-energy, and Z Backscatter X-rays — pioneered by AS&E. Learn more about AS&E products and technologies at www.as-e.com and follow the company on Twitter @ase_detects.