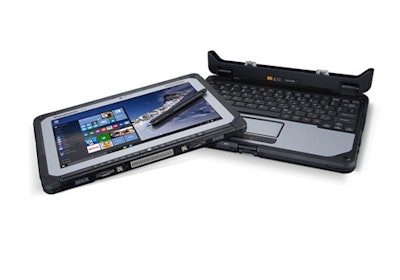 Panasonic, an industry leader in mobile computers, has announced release of the world's first fully rugged detachable laptop. The company says the Toughbook 20 delivers the durability, reliability, and performance Panasonic is known for, while adding the increased level of flexibility and functionality customers want in a single fully rugged computer. Combining the best features of a laptop and tablet, the new device is ideal for field workers that need a highly mobile computing solution and the ability to reliably capture large amounts of data. The Toughbook 20 is purpose-built for challenging environments, including public safety and defense.
"Our customers are constantly pushing the boundaries of how and where our devices are used," said Jan Ruderman, vice president, Business Mobility Group, Panasonic System Communications Company of North America. "As a truly customer-driven solution, the Toughbook 20 delivers what many of our customers are looking for – a single rugged device that delivers all the advantages of a fully functioning laptop and tablet."
Because mobile workers are charged with completing increasingly complex tasks in the field, the Toughbook 20 features the power required to get the job done, including a 6th Generation Intel Core vPro processor technology, a 128GB SSD, 8GB RAM and a choice of Windows 10 Pro or Windows 7 Professional (available through downgrade rights from Windows 10 Pro).
An extremely flexible solution, the Panasonic Toughbook 20 offers six usage modes, making it ideal for any situation or environment. Besides being used as a traditional laptop, the tablet can be detached and used by itself or flipped 180-degrees to show content in presentation mode. The convertible mode allows users to see the display with the keyboard attached and ready when it is needed. Using the built-in handle, the device can operate in carry mode or hanging on a wall, while vehicle mode provides full functionality and operation of the device when on the move.
Continuing to set the standard for ruggedness and reliability, the Toughbook 20 is designed to meet MIL-STD-461F for electromagentic interference and MIL-STD-810G for drop, shock, vibration, explosive atmosphere, temperature, humidity, rain and sand, as well as waterproof and dustproof ingress (IP65). The device features a magnesium alloy case, fanless design, locking port covers, raised bezel, Solid State Drive (SSD) heater and a built-in handle for ease of use, which also serves as a kickstand for desktop stability and enables use while hung.
"While relatively easy to design from a consumer perspective, the stresses a detachable laptop will endure in the environments in which our customers operate created serious design challenges. A significant amount of engineering went into this device to ensure it would deliver the reliability the Toughbook brand is known for," continued Ruderman.
The fully rugged detachable laptop is purpose-built for mobile workers, delivering features that enable productivity both in and out of doors, including a 10.1-inch sunlight-viewable 800 nit IPS display with gloved multi touch capabilities, a waterproof stylus pen and a backlit keyboard that is 16 percent larger than the Toughbook 19. The standard 2MP webcam and optional 8MP rear camera expand communications options for field workers. The device's optional bridge battery allows for continuous operation and the optional second battery (located in keyboard dock) doubles battery life and can also be swapped between the tablet and keyboard dock.
Optional features include a true serial port, magstripe reader, 1D/2D capable barcode reader, dedicated GPS or 4G LTE multi-carrier modem to ensure the Toughbook 20 provides the versatility needed to complete any task in the field. At a mere 3.9 pounds (2.1 lbs. for the tablet only), the device is exceptionally portable.
The Toughbook 20 comes with all of the advanced security features users expect from Windows devices and 6th Generation Intel Core vPro processor technology, plus integrated options such as insertable or contactless SmartCard readers, fingerprint readers for maximum flexibility for dual factor authentication. The device also includes dual Kensington lock slots -- one that secures the tablet and the keyboard and a second for the keyboard dock only.
The Toughbook 20 is supported by a broad selection of accessories, including a desktop dock, vehicle docks, rotating hand strap, 4-bay battery charger, vehicle charger, carrying cases and replacement items such as waterproof stylus pens for digitizers, tethers, protective screen films, batteries and AC adapters.
Panasonic Toughbook 20: Key Features
Versatility: World's first fully rugged detachable PC, combining the best features of laptop and tablet.
Processor: Intel Core m5-6Y57 vPro Processor (4MB cache, 1.1GHz up to 2.8 GHz with Intel Turbo Boost Technology).
Operating System: Windows 10 Pro operating system with option to downgrade to Windows 7.
Display: 10.1 WUXGA 1920 x 1200 (224 PPI) sunlight-viewable 800 nit IPS display
Memory & Storage: 8GB RAM, 128GB SSD (upgradeable to 256GB or 512GB).
Graphics: Intel HD Graphics 515.
Battery Life: An identical, removable, full-shift 2600mAh battery comes standard in the tablet and as an option in the keyboard dock
Hot Swappable: Optional bridge battery allows batteries to be hot swapped for continuous use.
Durability: Designed to meet MIL-STD-810G, MIL-STD-461F and IP65.
Connectivity: A variety of ports on both tablet and keyboard dock for maximum portability and flexibility including USB (including one high powered 1.5A USB), SDXC, HDMI, VGA, Serial, Ethernet, Wireless: 802.11ac Wi-Fi, Bluetooth, Dual Pass Antenna, optional 4G LTE multi carrier or Dedicated GPS.
Some integrated options are mutually exclusive. For detailed information on the Toughbook 20, including a detailed spec sheet, please visit us.panasonic.com/toughbook/20
Pricing and Availability
The Panasonic Toughbook 20 will be available in February 2016 from authorized Panasonic resellers at an estimated street price starting around $3,099, and will include a standard three-year limited warranty.
Sales inquiries for Panasonic's Toughbook and Toughpad product lines should be directed to sales.psc@us.panasonic.com or 877-803-8492.