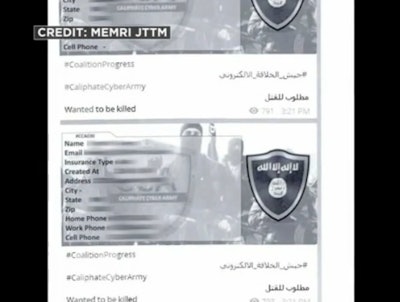 The FBI and multiple police departments in Minnesota are investigating the release of a so-called "kill list" containing the names and personal information of at least 32 police officers from departments throughout the state.
The information includes home and email addresses and personal phone numbers. The list was reportedly compiled by a group calling itself the Caliphate Cyber Army, which is considered to be a cyberextension of ISIS. News of the list was reported this week by the website vocativ.
None of the officers whose names appear in the list have been hurt or targeted by any specific acts of violence, but the FBI in Minneapolis tells CNN it's taking the threat seriously.
"Our baseline on matters like this is that we take all threats and perceived threats against law enforcement very seriously," FBI spokesman Kyle Loven says. "As we look into this matter and investigate, hopefully, we'll answer some questions as to the legitimacy (of this list)."
A specific motive for targeting the officers remains unclear, Fox 8 reports.

The names of the officers were posted along with a photo of masked ISIS fighters holding automatic weapons and bearing the logo of the CCA.
CNN affiliate WCCO in Minneapolis claims to have recently obtained an email sent by the Minnesota Police and Peace Officers Association, advising its officers that their website had been hacked and that members who had requested information related to auto insurance had personal data stolen.