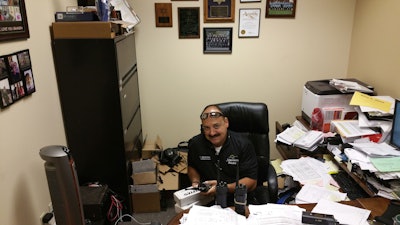 Southern California agencies have had ongoing issues when transmitting critical information to dispatchers due to antiquated systems, poor reception, and even dead radio batteries.
With its population increasing more than 69%, Chief Sean Hadden of the Murrieta (CA) Police Department tasked Capt. Dennis Vrooman and Cris Martinez, Training and Radio Systems Administrator, with improving communications. Ultimately they chose the County of Riverside's new Public Safety Enterprise Communications (PSEC) digital system. Because Murrieta borders other areas handled by Riverside County Sheriff's, now seamless interoperability between agencies was possible.
Next, Murrieta PD assessed its two-way radios. Their original Motorola backbone was reliable, but they needed a quad band radio platform. Martinez selected Harris Unity XG100 full spectrum radios.
These upgrades were paramount to protecting personnel. However, although the agency was happy overall with the Harris radios, they wanted the batteries to last longer.
"I found Impact Power Technologies (IPT) and tested their batteries, along with a few other companies'," said Martinez. "We quickly determined that IPT's batteries lasted about a day-and-a-half longer than the Harris batteries."
Martinez recommended Murrieta convert to IPT, contingent on three things: The batteries must cost the same or less than the OEMs, include a city logo label, and deliver in bulk for immediate deployment. IPT easily accommodated all three.
Martinez stated, "The customer service was outstanding. And the savings from IPT as compared to other vendors allowed us to buy double the batteries and 50% more chargers. We definitely got more for our money…and more performance, too."
Murrieta officers no longer needed to swap out batteries until the end of their second day's shift. As a result, Martinez referred IPT to other nearby agencies including the Indio and Hemet Police Departments, and the Riverside Sheriff's Department.
About Impact Power Technologies
Headquartered in Braintree, MA, Impact Power Technologies (IPT) LLC, designs and manufactures portable power products for land mobile communications, bar code scanners, UPS systems, and portable printers. IPT's mission is to provide the highest quality control and customer support in the industry. IPT's proprietary Lithium Polymer and Lithium Ion chemistries, combined with their exclusive Battery Management System (BMS), guarantee the maximum runtime, recharges, and lifespan. IPT's engineers can custom-design battery solutions for almost any need. IPT's Technology Center in Stuart, FL, works with ISO-9001, QS-9000 certified production partners in the United States, Asia, and Taiwan. www.impactpowertech.com