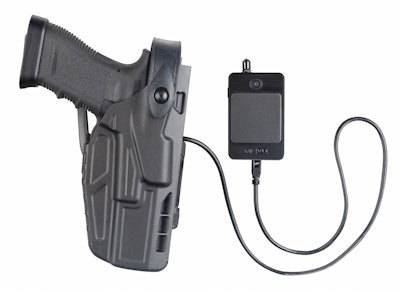 At the SHOT Show this week body-worn camera maker Vievu and its parent company Safariland showed auto-activation technology for triggering a recording on a body-worn camera once a weapon is drawn from an officer's Safariland 7TS series duty holster or once an item of equipment is removed from an officer's Safariland ALERT Belt.
The Safariland 7TS series holster with Camera Activation System (CAS) securely activates a VIEVU body worn camera as an officer removes his or her weapon from its holstered position. The 7TS CAS holster uses a wired connection to the camera to ensure reliability and ease of use. Safariland has partnered with HP's Wearables group to develop smart solutions for the law enforcement market.
Safariland has entered into an exclusive licensing agreement with Creative Law Enforcement Resources Inc. (CLEAR) to manufacture and market the Automated Law Enforcement Recording Trigger (ALERT) Duty Belt. The fully automated patent-pending duty belt system activates a body worn camera once an item of equipment such as a baton or OC spray is drawn from the ALERT belt. This allows for video capture of critical incidents without requiring the officer to manually activate his or her body worn camera. Currently, ALERT has been integrated into the Vievu platform and it is planned to integrate with other body worn camera platforms as well.
According to Matthew Krieger, CLEAR's president, "The ALERT Duty Belt assures the body worn camera is activated, so officers merely need to react as they have been trained to handle to the threat. This protects the officer and the public—a win-win for everyone."
"As body worn cameras become an essential piece of duty equipment for law enforcement, these solutions embedded into Safariland duty gear ensure the camera comes on when it needs to—even in frequent circumstances where the officer doesn't have time to turn on the camera," said Scott O'Brien, president of The Safariland Group. "At Safariland, we've been a technology leader for over 50 years and this holster innovation to activate a body worn camera is a natural step in our product evolution to match the industry need."
Product demonstrations of the technology featured on the ALERT Duty Belt and 7TS holster with CAS are on display at booth #12762, throughout SHOT Show 2016. During this time, demonstrations are available to members of the law enforcement and military communities. For more information, visit www.safariland.com/CAS.
Product availability is planned for summer 2016. Safariland is welcoming agencies to sign up early for their test and evaluation program.