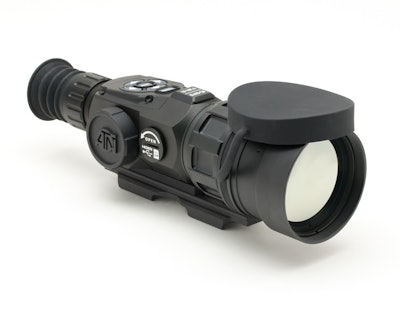 ATN, known for its advanced night vision, thermal imaging, and digital Smart HD optics for hunters, outdoor enthusiasts, military, and law enforcement, introduced its new ThOR HD Series of thermal rifle scopes. The ThOR HD isn't your average thermal scope. It's smart. At the heart of the ThOR HD beats the all new Obsidian "T" II core. This powerful processor allows the ThOR HD to pack in intelligence and features previously not seen in a thermal riflescope, according to the company.
"The ThOR HD is the future's technology today. I've never seen anything quite like it. Our engineers really outdid themselves," remarked ATN's Director of Marketing, Chip Fong.
The ThOR HD now comes with a ballistic calculator that can take into account wind speed, range, incline, and more while instantaneously making corrections to the reticle's point of impact.
The ThOR HD also now has a profile manager, allowing one to save ballistic settings and the "zero" in a profile. Want to switch rifles or shoot at a different distance and be instantly zeroed in? Simply open the saved profile for that rifle or distance and instantly be on target.
The ThOR HD can also record videos and photos onto a MicroSD card and it comes with ATN's new patented Recoil Activated Video (RAV). Now hunters will never forget to record that perfect shot. When the RAV feature is enabled, the system buffers everything the scope sees. As the trigger is pulled, the recoil tells the scope to record what it saw before the shot was taken, the actual shot itself and as much video after the shot as preferred. Now the user can focus on more important things than hitting the record button, like pulling the trigger.
Other distinctive features include the E-Barometer, Gyroscope and E-Compass. Activating the built-in gyroscope and image stabilization gives hunters a smooth image that makes it easier than ever to spot game. The E-Compass lets users know exactly what direction to head in so one can move a little closer and get a better shot at hogzilla. The ThOR HD is also Wi-Fi and Bluetooth (4.1) enabled so the user can connect his or her phone or tablet and view everything the scope sees on a mobile device.
MSRP for the ThOR HD starts at $1,999.00.
For more information on ATN, visit www.atncorp.com.