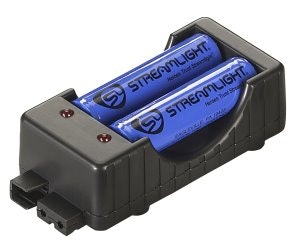 Streamlight, a provider of high-performance lighting, has announced its new product, the Streamlight 18650 Lithium Ion Battery and Charger. The new dual-power-input charging system permits charging through AC/DC or USB power and was designed to accommodate the growing line of Streamlight products that accept 18650 rechargeable batteries.
The two-bay cradle can charge one or two Streamlight 18650 Li-Ion battery in as little as 3.5 hours through 5V Micro-USB or traditional AC or DC power sources. The new rechargeable 18650 batteries offer 3.7v, 2600mAh and are rechargeable up to 500 times. The charger unit has an impact resistant engineered polymer housing.
The Li-Ion Charger and Battery is available in a kit that includes two Streamlight 18650 batteries and either a 120V AC cord or a custom micro-USB cord. The charger and batteries can also be purchased separately. All products come with Streamlight's Lifetime Limited Warranty.
For more information visit www.streamlight.com.