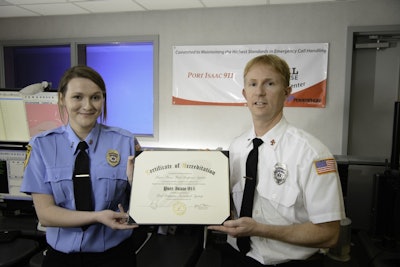 Sugar Land Public Safety Dispatch in Texas has earned a two-year Total Response Reaccreditation for emergency call handling. Total Response Accreditation is provided by 911 call-handling-system provider PowerPhone. Reaccreditation demonstrates an agency's continued commitment to quality and accountability in emergency call handling and was awarded after a thorough agency audit.
This reaccreditation highlights Sugar Land Public Safety Dispatch's ongoing commitment to advancing its documented 911 call-handling standard of care. Since receiving accreditation in 2012, Sugar Land has made significant upgrades including moving from paper call-handling tablets to PowerPhone's streamlined computer-aided call handling software (CACH) and incorporating integrated fire and emergency medical call handling protocols. Adoption of CACH allowed Sugar Land Public Dispatch's CAD vendor (SunGard OSSI) to interface with CACH for seamless communication between software programs to dispatch and update responders in real time as information is obtained from 911 callers.
Reaccreditation also highlights Sugar Land Public Safety Dispatch's dedication to training and continuing education. Audit results demonstrate that Sugar Land has surpassed Texas' mandated minimum continuing education level and all employee certifications in EMD and FSD are current and valid, including five employees who have also been certified in Call Assessment.
Call assessment plays a vital role in regularly monitoring agency performance against their defined standard of care. Since upgrading to CACH, Sugar Land has attained powerful new assessment tools to evaluate trends in systematic performance, which they have incorporated well into the call assessment process.
Sugar Land Public Safety Dispatch has done an excellent job defining, achieving, and measuring compliance with their 911 call-handling standard of care, according to PowerPhone; Total Response reaccreditation affirms their ongoing commitment to strengthening 911 operations and providing the community with the high-quality 911 call handling.
For more information, visit www.PowerPhone.com.