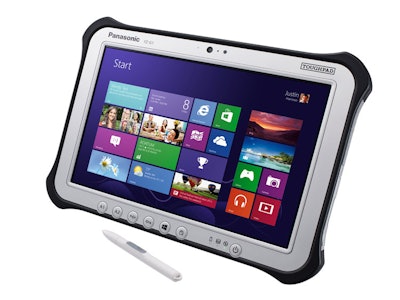 Panasonic has announced new upgrades to its Toughpad FZ-G1 fully rugged 10.1-inch tablet. The enhanced Toughpad FZ-G1 features a 6th generation Intel Core processor along with the latest Microsoft Windows 10 Pro platform for improved communications, providing an even more powerful tool for mobile professionals in government, public sector, food services, enterprise and field service environments.
The updated Panasonic Toughpad FZ-G1 tablet now provides up to 14 hours of continuous use with a single battery and up to 28 hours with an optional long life battery, further improving productivity on the job. Its improved Intel HD graphic performance feature provides users with the ability to capture and document photos on the job with extreme clarity. The rugged tablet's enhanced connectivity allows users to take full advantage of the latest Windows 10 operating system (OS) capabilities. Enhanced features like the new waterproof digitizer pen and the optional docking kiosk, combined with the glove-sensitive touchscreen, provide mobile workers with the flexibility to customize the fully rugged tablet so it best suits their needs in most environments they encounter.
"The Panasonic Toughpad FZ-G1 tablet was the first fully rugged tablet to enter the market and remains the world's bestselling 10.1-inch fully rugged tablet because of its proven performance, portable design and reliability," said Brian Rowley, Vice President of Marketing and Product Management, Panasonic System Communications Company of North America. "As Microsoft Windows 10 OS continues to grow in popularity among government and enterprise users, the enhanced Toughpad FZ-G1 device now offers more powerful options to improve both performance and communication for mobile workforces."
Panasonic Toughpad FZ-G1 Intel Core Key Updates:
Powerful Processor: Intel Core i5-6300U vPro Processor
Enhanced Graphics: Intel HD Graphics 520 (Built into CPU)
Improved Wi-Fi Connectivity: Intel Dual Band Wireless-AC 8260 Wi-Fi 802.11 a/b/g/n/ac
Longer Battery Life: Up to 14 hours of continuous use with a single standard battery, and up to 28 hours with optional long life battery
SSD Storage: 256 GB / 512 GB
Enhanced Ruggedness: Water proof digitizer pen
For complete product details, visit http://business.panasonic.com/toughpad/us/best-rugged-tablet.html.