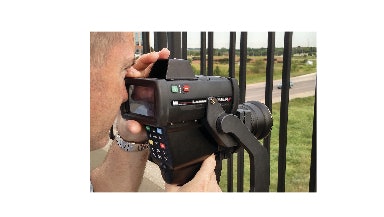 Kustom Signals Inc., introduced the new Long Range accessory for the LaserCam 4 at the IACP Conference 2016. The LaserCam 4 LR is an optical lens accessory that takes a tripod-mounted yoke and a telephoto camera lens to significantly increase the operational distance at which the device can identify target registration plates and other offenses. The LaserCam 4 LR is able to provide video or photo evidence that can identify registration plates (depending on region) at approximately 400 meters (1312 feet) and at a much lower cost than competing solutions, according to the company.
Powered by the award winning ProLaser 4 for superior performance, LaserCam 4 offers greater range to target, faster acquisition time, and image resolution of plates at longer distances, providing a comprehensive video record of tracking history.
With patent pending features including AutoTrak, LaserCam 4 continually zooms with target tracking, optimizing target specific speed measurements and simplifying the user experience. The result is irrefutable video or photo speed enforcement evidence to confirm every citation, according to the company. The new LaserCam 4 LR will begin production in the first quarter of 2017.
Key LaserCam 4 LR Features Include:
400 meter long range offense capture
AutoTrak automatic zoom optimized target tracking
Multiple speed thresholds to enforce different vehicle class posted limits
Video and customizable Photo Mode for flexible and efficient evidence management
Wi-Fi file transfer
AES 256 encryption for added security
Certification notification and management
IR emitter for superior night-time operation
Upgrade to 64 GB video memory for 33+ hours of continuous video
For more information, visit www.KustomSignals.com or www.MPDInc.com.