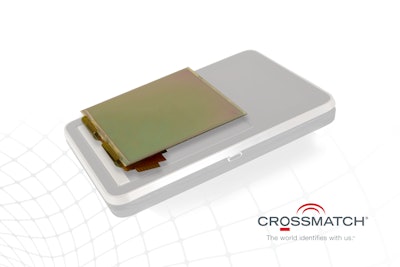 Crossmatch, a leading provider of biometric identity management and multi-factor authentication solutions, unveiled its latest ten-print sensor technology that promises to revolutionize mobile livescan. The new FAP60 thin film transistor (TFT) sensor provides what law enforcement, military, and border management officers have always wanted—the ability to process FBI compliant enrollments and rapid ID checks on a single device, all without the weight and bulk of optical-based sensors.
"There are several ten-print devices on the market today that claim to be the lightest and smallest," said Ben Ball, government market director at Crossmatch. "Yet the optical technology in these devices cannot match the flexibility and mobility of our radically thin and lightweight TFT sensor."
Crossmatch is introducing the FAP60 TFT sensor technology in a mobile handheld device with wireless capabilities to demonstrate its ability to integrate with existing phones, tablets, and laptops. Both the sensor and the device are on display at the Global Identity Summit this week.
"The options that the new FAP60 sensor deliver are expansive, offering the truly mobile ten-print capability our customers are demanding," noted Richard Agostinelli, CEO of Crossmatch. "Up to this point, mobile customers have been limited by smaller FAP30 and FAP45 sensors which do not meet FBI standards for enrollment. Being able to complete a mobile 4-4-2 capture without stitching opens up new use cases that previous and current market technologies are unable to fulfill."
Use cases for the new technology and wireless device include in-field "book and release" offense processing by law enforcement, mobile border control/immigration processing, and rapid mobile identification.
To learn more about Crossmatch and its TFT technology, visit www.crossmatch.com/fap60tft.