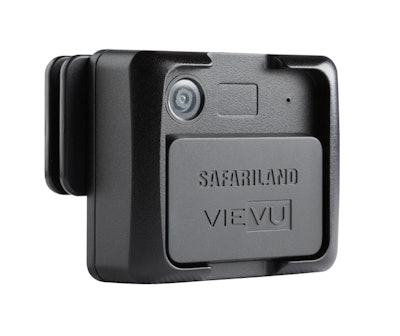 Safariland Vievu, a brand of The Safariland Group, today announced that its LE5 Lite body-worn camera, a price-sensitive integrated body-worn camera and cloud-based digital evidence management solution, is now available. The LE5 Lite body-worn camera is a fully-integrated system designed to enable agencies to implement a comprehensive body-worn camera program at an affordable price.
"This LE5 Lite is a category changer that simplifies the purchase and implementation process for body-worn cameras," said Scott O'Brien, president of Safariland. "We have removed the complexity while preserving the integrity of secure evidence. This changes the perception about body-worn cameras and storage being expensive, enabling agencies to easily implement a system at a very reasonable cost."
The LE5 Lite body-worn camera utilizes the fifth generation Safariland Vievu camera platform and the Vievu Solution software. This cloud-based digital evidence management solution was built on the Microsoft Azure Government Cloud, which directly supports the FBI's Criminal Justice Information Services (CJIS) Division. The system is built to benefit from the same security features and much of the storage capacity that large agencies require, while also meeting the demands of smaller budgets. In addition, Vievu Solution software is user-friendly and quick to deploy, requiring only a website interface and an efficient registration process that enables deployment into the field in as little as 24 hours, according to the company.
"With agencies today being tasked to do more with less, this technology is multi-functional, going beyond patrol duty and can be utilized by detectives as well as parking enforcement and school resource officers," said Jason Wine, vice president of engineering and technology at Vievu. "The LE5 Lite camera combines performance, ease of use and convenience, with a secure, cost-effective approach to storing video data."
Compact and extremely light, the LE5 Lite body-worn camera weighs only 2.7 ounces, yet is tough enough to withstand the everyday rigors of patrol, according to the company. The LE5 Lite camera is built to be operable in all weather conditions, including temperatures ranging from minus 4 degrees Fahrenheit to 122 degrees Fahrenheit. The undistorted field of view of its precision 95-degree lens is intended to accurately represent an officer's maximum field of view and distance to ensure the integrity of recorded evidence. Further, the LE5 Lite camera has a battery life of six hours and features Safariland's proprietary, simple slide on/off switch that covers the lens when the camera is off.
In the field, officers are able to livestream videos and add metadata via WiFi using the Safariland Vievu smartphone application at any time. For officers who prefer to wait until returning to the office, they can dock their camera in a ten-unit docking station (optional purchase) for simultaneous hassle-free upload and battery recharge.
After the digital evidence has been uploaded to the cloud, the officer is able to add metadata and event details to the case using the system's browser-based interface.
The LE5 Lite body-worn camera is available at an MSRP of $199, with two options for storage: $20.00 per camera for 50 GB per month and $30.00 per camera for unlimited storage.
For more information, visit www.vievu.com.