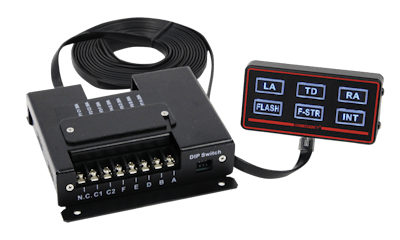 Code 3, Inc., a leading manufacturer and developer of light and sound emergency products, today announced the launch of the new Remote Rocker Max Pak Switch.
The Remote Rocker Max Pak Switch allows users to program, customize, and control unique warning packages with a single switch box. Each switch comes with a six-button backlit controller that lets users operate everything from full-size lightbars to directional lights. Its compact, versatile design allows for easy installation in any vehicle.
"We are thrilled to offer the Remote Rocker Max Pak Switch. This switch is the perfect addition for anyone that wants to completely customize their vehicle's warning package," said Bryan Lohbeck, product manager, Code 3.
The Remote Rocker Max Pak Switch comes with a switch box and a six-button control head. Switch boxes are 5.3 inches long, 5.2 inches high, and 1.5 inches deep. The controllers are 3.9 inches long, 2 inches high, and 1 inches deep, allowing the switch to easily be mounted in any vehicle. Controllers feature six backlit rubber membrane buttons. The top three buttons can be programmed as progressive level 1, 2, and 3 outputs. All six switches can be programmed as momentary buttons, on/off, and timed output (8 seconds). Every unit comes with a 15-foot connecter cable. The Remote Rocker Max Pak Switch meets select SAE J575 Environmental standards and comes with a two-year warranty.
To learn more about the Remote Rocker Max Pak switch click here: https://youtu.be/ZFw8RA15x8E
For more information, visit code3esg.com or call Code 3 Customer Service at (314) 427-2700.
Established in 1974, Code 3 Inc. designs and manufactures a complete line of emergency lighting and warning products for police, fire, emergency response, utility and industrial applications in Saint Louis, MO. Code 3 Inc. is a member of ECCO Safety Group (ESG).