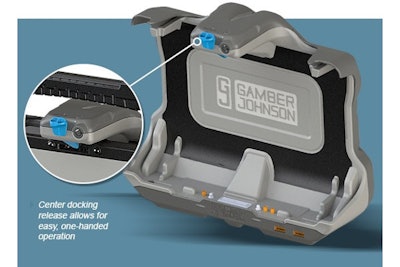 Gamber-Johnson has introduced a docking station for the Getac UX10 fully rugged tablet computer. The company says its new NotePad Touch Universal Tablet Cradle is small enough to fit perfectly in a mobile office but large enough to work with the tablet's mobile accessories in a variety of work environments.
Gamber-Johnson's NotePad Touch Universal Tablet Cradle features an array of port replication to support the peripherals needed to create a full mobile office center. The docking station is designed to fit the UX10's mobile accessories including the extended battery, rotating hand strap, RFID reader, and smart card reader. It's designed to make it easy to quickly take the computer in and out of the dock by only using one hand. This docking station also includes keyed lock for added security so users can protect their investment when they are away from their device. You can also combine the new NotePad Touch Universal Tablet Cradle UX10 docking station with a variety of Gamber-Johnson mounting devices to build a complete mobile solution for your work space.
Preorders available for shipping early October 2019.