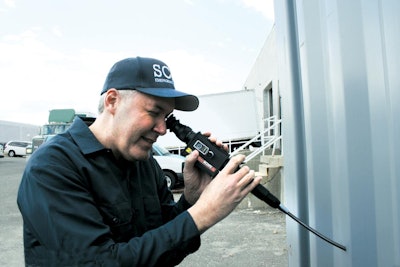 Zistos Corporation's (zistos.com) ExplorerSCOPE – the company's most advanced cargo inspection tool – now offers a new WiFi option, which allows real-time encrypted images from the scope to be wirelessly transmitted to other displays.
The new optional WiFi transmitter adapter (WXMT-WIFI) connects to the ExplorerSCOPE and produces wireless, encrypted digital video images that can be transmitted and viewed on a smart display running the Zistos imaging application, or transmitted over a digital network. The Zistos imaging application also allows the user to capture still images or video clips from the scope. The new WiFi transmitter option can allow other team members to remotely view the video images in real time.
The ExplorerSCOPE (https://zistos.com/sd-components/scopes/esm/) is a 9mm diameter videoscope that allows an inspector to make a complete visual assessment of the interior of shipping containers, trailers and other cargo vessels through a hole as small as 10mm in diameter without opening doors or hatches.
Designed for maximum portability, the ExplorerSCOPE is battery powered and combines a powerful internal laser light source, coupled with electronically enhanced low-light video. The ExplorerSCOPE can generate images of objects that are more than 30 feet away in pitch black conditions. The image is viewed on a built-in high-resolution video monocular and can also be viewed on an optional LCD display that connects to the scope.
The ExplorerSCOPE can be a highly effective tool in search and discovery operations, where human trafficking victims, narcotics, and other contraband may be hidden in cargo areas, Zistos says.
The basic system is packed in a small, hard case that contains the scope, optional 5.5-inch display, guide tube, batteries and battery charger.