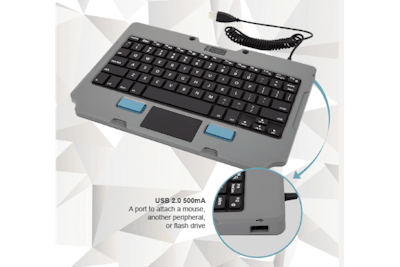 You can combine Gamber-Johnson's new Rugged Lite Keyboard with your tablet computer and special mounting equipment to build the perfect mobile solution. The Rugged Lite keyboard is designed to be a cost-effective solution and the perfect complement for an application that does not require fully rugged devices.
The new Rugged Lite Keyboard features an integrated center touchpad with right/left mouse buttons and 12 function keys which will make the usability of this keyboard very familiar to most users. This keyboard also features a configurable Emergency Key—a great safety feature for a public safety application or other critical contact applications.
This keyboard supports Windows (XP or Above), Android, Linux, and Mac OS / iOS platforms, making it easy to integrate into most applications; it connects using a USB type A coiled input cable and features an auxiliary USB-A 2.0 port to connect a flash drive or other peripheral.
The Rugged Lite Keyboard is designed with an ABS polycarbonate case and silicone rubber keys. Gamber-Johnson has designed a quick release cradle to hold the keyboard securely in place for a mobile application; the cradle's VESA 75 mounting pattern enables it to be mounted to most Gamber-Johnson motion attachments.
The Rugged Lite Keyboard is available for pre-order now, and is scheduled to be ready in mid-January. It will be available in a kit bundled with the Quick Release Cradle and also available in a kit bundled with the Samsung Tab Active Pro tablet docking station.
For more information, visit https://www.gamberjohnson.com.
CAPTION: