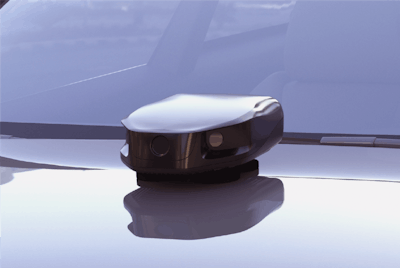 Ekin, a global leader in smart city technology solutions powered by artificial intelligence (AI), debuted its next generation mobile automatic licenses plate reader (ALPR) solution at CES 2022 in Las Vegas last week. The Ekin Micro Patrol is an advanced, mobile smart city solution with a small size designed for use on motorcycles, bikes, and cars.
Micro Patrol is the next generation in Ekin's Bike Patrol mobile ALPR. With this evolution, the advanced smart city solution can now be mounted on bicycles, motorcycles, and automobiles, requiring only a power supply. The ALPR system's lane count increases from two to three, and it provides license plate identification accuracy in low-light conditions, inclement weather, and traffic congestion. With ultra-wide coverage, the Micro Patrol offers 130 degrees of ALPR, which can be combined for 360-degree coverage to support mobile traffic and parking management.
"The Micro Patrol offers an award-winning, astonishing design that is micro in size but maxi in function," said Akif Ekin, founder and chairman of Ekin. "Ekin is proud to define the new standard in mobile ALPR/ANPR."
The Micro Patrol was created and designed following the success of the Ekin Patrol G2. The system identifies license plates from moving and parked cars and provides instant comparison to wanted and stolen vehicle data. The company's third-party database, software, and national inquiry services integration, support the AI-powered application.
The Ekin Micro Patrol features plug-and-play design and is adaptable from 12V and above, offering a wireless controlled system that turns regular vehicles into smart patrols. The Ekin Micro Patrol can communicate with all Ekin solutions using the wireless communication infrastructure.
Learn more: https://ekin.com/assets/uploads/ekin-micro-patrol-brochure-en-1.fe1.pdf