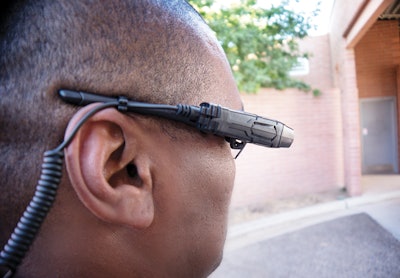 In contemporary American law enforcement, whatever you do, you're probably doing it on video. Just about every hand-held phone doubles as a video recorder. And anyone with an Internet connection can post video on YouTube and Facebook.
So it's not unusual to see headlines that read, "Police Deny Using Excessive Force," the day after an incident when the local TV news is showing a citizen's video of a violent police arrest. This story can happen anywhere, in any town, to any agency.
It happened in the Phoenix suburb of Mesa, Ariz., in early June. However, this time there was a twist. This time, the police department responded to the media with a statement and a video of its own. The arresting officer wore a TASER Axon Flex on-officer video camera.
Capturing the action from the point of view of the officer, the video showed a clearly aggressive suspect, who appeared to take a fighting stance, charge at the officer, and throw a punch. Viewers of the evening news now had a better video to judge the officer's actions. If not for that on-officer video, a tide of public outrage may have swelled against the officers of the Mesa PD. Instead, the story's balance helped check public outrage.
The era of on-officer video has arrived. The technology is poised to help keep officers safer and more accountable on the job, while protecting law enforcement agencies from nuisance lawsuits.
Videos of officers in action are nothing new. The 1960s ushered in the era of police officers on the television news. Unrest in the Civil Rights-era south, and later in northern and western cities, left the public with images of police officers with raised nightsticks and water cannons. Since then, news videos have often been used to level criticism and even charges of excessive force against officers.
Video systems became widely available to capture real-time policing in the 1980s to document drunk driving. Agencies installed these early VCR-based analog "dash cam" systems in cruisers.
Though laughably primitive by today's standards, analog dash cams gave the public a new perspective on police work. Unfortunately, they often missed the action when the officer moved out of the camera's field of view. A physical confrontation between a suspect and an officer often moved out of frame for the finish.
Beyond the Cameras
Law enforcement administrators have long known that what happens out of the dash cam's view can be more important than what the eye sees. The need to capture the entire incident, not just the part that happened in view of the in-car cameras, gave birth to body-worn video.
About 10 years ago, engineers at Scottsdale, Ariz.-based TASER International began looking for a way to enable officers to record videos outside of the car. According to Steve Tuttle, vice president of communications for TASER, the TASER training staff would often be frustrated by stationary videos that lost the critical action of a TASER deployment when it happened off camera. Tuttle says this was a "gee whiz" moment for the company.
TASER's first solution was the TASER Cam — a small video camera that attached to the TASER X26. Releasing the safety activated the recording. The TASER Cam almost fixed the problem. Videos clearly showed the events leading up to the deployment, but they showed pavement when the TASER was lowered post deployment. TASER introduced its first Axon on-body system in 2009. Three years later, TASER brought out the head-mounted Axon Flex.
TASER is not unique in its vision of body-worn video for officers. VidMic was first to market with a body-worn system specifically designed for officers in the early 2000s, followed by Vievu. Panasonic, Digital Ally and others have entered the market since Axon's introduction.
When considering body-worn video systems, departments need to look beyond the hardware. Video files need to be stored, tracked, and managed to meet retention policies. Files need to be secured to meet strict rules of evidence. Videos need to be shared with prosecutors and defense attorneys during the discovery process.
Agencies must realize that video files require expensive server storage to keep evidence on site. VieVu and TASER offer cloud storage and file management solutions as an alternative. Cloud storage offers highly secure storage at a cost that could be prohibitive for budget-strapped agencies. An hour of video can require up to a gigabyte of hard-drive space. If tens or even hundreds of officers make videos every shift, you can see how data files add up quickly.
Most law enforcement agencies have procedures in place that cover the handling of digital media. A generally accepted practice is to burn the digital evidence onto a CD or DVD and impound it in the property room. There, it is cataloged, tracked, and made available for court. Under this system, digital files take up real estate in the evidence room. Staff must impound and catalog the disks, check them out of evidence, carry them to court, and dispose or archive them when the case is adjudicated.
TASER's cloud-based Evidence.com is one of the most sophisticated video storage solutions available for agencies using on-body video. Evidence.com eliminates the need for on-site storage space by storing the files off-site and allowing agencies to share the files via secure access to the server. Prosecutors can simply log into a remote portal and get the videos they need for their cases. And Evidence.com goes beyond shared access; the system tracks every activity associated with every file and stores it in an audit log.
Video storage and evidence management on site is expensive and difficult to implement. So if a department considers every aspect of making and managing video evidence, it may conclude that a full software and storage package is the most economical solution. Smaller agencies with smaller deployments may choose to keep the systems they have in place.
Many departments implemented policy decisions when acquiring earlier-generation video systems that will now need revising.
Body-worn cameras bring up new challenges because they're always present in an officer's personal space. That makes some officers uncomfortable, because they may not be on their best behavior at all times.
Most officers have no trouble acting professional when in the public eye or speaking to a citizen, but they may not want everything recorded outside of those encounters. And police labor organizations have objected to departments mandating that their members wear cameras. This "big brother" issue may be the biggest consideration for when and how the video cameras are used. It affects the officers, supervisors, and the evidence managers.
Side Effects
TASER's Tuttle recently sat down with representatives of police supervisors and unions for a frank discussion. Rank-and-file officers most often said they didn't want to get into trouble for something that they said on video. Specifically, the officers worried that command staff would monitor their language and object to F-bombs they used to accentuate their points when under stress. The supervisors said that they weren't interested in the occasional F-bomb. They said they were more interested in keeping officers safe and accountable, and they want better documentation of critical incidents.
Cameras can be used as a "gotcha" for an officer, but most officers and supervisors also see the benefit of having a first-person video recording of what happens during a confrontation or critical response. During the Mesa PD's rough arrest, the Axon Flex camera did capture the officer dropping a few F-bombs. However, the focus of the incident revolved around the officer's eyewitness point of view—the punch that knocked the camera off his head. In this case, the camera did exactly what it was deployed to do.
When developing policies for body-worn video systems, police managers must decide whether they will require officers to record all encounters or leave it up to the officer's discretion to activate the system. They must also set retention schedules based on the type of recorded incident. These policies will shape how the cameras are perceived on the force and determine their effectiveness.
Officer-worn cameras represent the pinnacle of transparency in law enforcement. For that reason, even civil liberties advocates like them.
A typical complaint starts with an accusation of wrongdoing and a denial by the officers. On-body video systems offer an unedited and unbiased account that protects the officer and the citizen's civil liberties. That's why the ACLU has publicly endorsed the cameras, saying transparency leads to public trust and trust benefits the community.
Some video systems, such as the TASER Axon Flex, include a buffer that captures video with no audio of the 30 seconds preceding activation. This "pre event" information protects the officer and agency from unfounded complaints and lawsuits.
Because use-of-force complaints often fall after an agency implements on-body cameras, agency leaders have been quick to embrace this technology. This was an unexpected but understandable side effect, when you consider that behavior often improves under a watchful eye.
Despite some officers' reluctance to embrace the technology, most experts agree that body-worn video cameras are here to stay in law enforcement. In a world where almost every citizen has a smartphone camera that can record you on the job, you need a video that turns the tide of public opinion to your side.
On-officer cameras are poised to become as much a part of policing as a pen and notepad. The technology will only get better and cost less. When you consider the amount of money spent investigating complaints and defending claims of wrongdoing, the cost of the systems comes into perspective. Agencies considering these systems have to look beyond the cost of the actual equipment and see the importance of developing solid policies for when to use the cameras and how to store, manage, share, and retain the digital files.
Mark Clark is a 27-year veteran police sergeant. He has served as public information officer, training officer, and as supervisor for various detective and patrol squads.