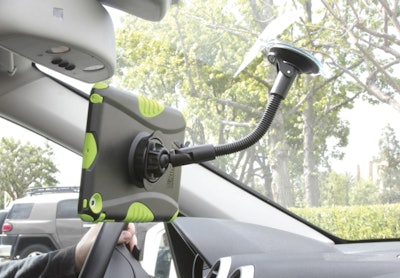 To get a good idea about the variety of cases available for smartphones and tablets, all you have to do is ask your friends to show you their mobile computing devices. What you will quickly notice is that everyone has a favorite choice for how to protect and accessorize their digital lifelines.
Some people choose simple leather or vinyl cases; others make a statement about their devotion to a certain sports team; some profess their faith; and a few daredevils never do anything to shield their phones or tablets. Law enforcement officers on the job need to do more than just cover or decorate their devices, they need to protect them from any number of hazards, including impact, spills, weather, and vibration. And that's where Trident Case's Kraken AMS excels.
Trident Case makes the Kraken AMS system for a wide variety of tablets and smartphones. Kraken AMS is a slim, tough-as-nails case that meets MIL-STD-810F for impact, vibration, dust and sand protection, and rain resistance.
The Kraken—named for the legendary sea monster—is a multi-part case with a hardened polycarbonate exterior that's easy to clean, a shock absorbing silicone interior, and tough screen protection. Another element of the Kraken AMS is the Adaptive Modular System (AMS), which makes it easy to attach the case-enclosed device to a mount.
Because the Kraken AMS is designed to be secured in a mount, Ontario, Calif.-based Trident Case has established a partnership with Arcadia, Calif.-based mount manufacturer Arkon to create a solution for law enforcement vehicles.
Erin Luzzi, vice president of marketing for Trident Case, says Arkon is specifically making mounts to fit the Kraken AMS. "Mounts are typically made universal so they can be compatible with a broad variety of devices. Unfortunately, many mounts are not compatible with devices in cases or they don't offer an optimal fit, which means the devices in cases are unstable in the mounts. Through our partnership with Arkon, we now have a case that offers optimal protection for your smartphone or tablet and a mount that is fully compatible with the case."
Arkon offers both permanent and semi-permanent vehicle mounts with quick detach features so the devices can be easily removed. Luzzi says the quick detach feature is a great advantage to the Trident Case-Arkon solution, especially for officers who want to use the same tablet in the vehicle and outside of the vehicle.
"Our research into law enforcement shows that there are a variety of problems that need to be solved regarding the use of tablets in the field," she says. "The first is adaptability and flexibility. You might have a mounting solution in a vehicle where the tablet has to be unscrewed or unlocked from the mounting solution and now it's unprotected and you have to put it into a case to protect it outside of the vehicle. Through our solution you can easily transport your mobile device fully protected in a case from within a vehicle to the field."
Luzzi adds that Arkon mounts are so slim that they can be used in a number of different positions in the vehicle. "That's the great thing about these mounts," she says. "They offer so many different options, and they can be used in just about any free space."
Bulk orders of Kraken AMS cases can be customized with logos or patches of law enforcement units. The image is molded into the polycarbonate material of the case so it won't scratch off.
The Trident Case-Arkon solution is now available.