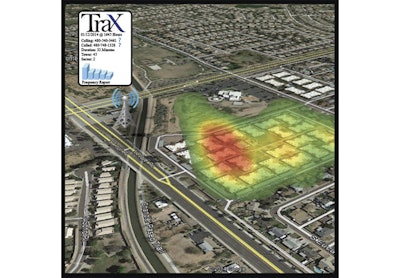 Have you ever had to sift through spreadsheets of data looking for that needle in a haystack that will help solve your case? Trax software from Zetx recognizes cell phone data in any format from any provider and uses it to map the cell towers, create visuals of call information, highlight callers' habits, and even autofill search warrants. And it's simple enough that any officer can use it.
Sy Ray is now the president of Zetx, but he started as a police officer with the Gilbert (Ariz.) Police Department who wanted an easier way to use phone record data in investigations. Through trial and error, he discovered patterns in the data and techniques that worked for him to find useful information, but it was all done manually.
"I figured there must be a way to automate that system so that it visualizes cellular records," says Ray. Determined, he taught himself programming so he could develop Trax.
Because he and his colleagues at Zetx have experience building cases with cell phone data, they understand what tools are most helpful to officers. One major component that makes Trax so useful is that it provides a visual of all of the call information from each tower.
Say a subject travels from Phoenix to Salt Lake City and makes 14 phone calls along the way. "Once you get those records, you pop it in the program and in about 30 seconds it kicks out a KML file, which loads into Google Earth and shows all the towers between Salt Lake and Phoenix that were used, in chronological order," explains Ray. "And it will actually animate the process, taking you on a flying visual tour from tower to tower. And each time it displays a tower it will actually display the call information: who called, how long the call was, etc."
Not content to stop there, Ray developed Trax to communicate not just which tower was used and from which side of the tower the call came, but to calculate how far away from each tower a call might have been made. This can help pinpoint the location of a call, which is often key to solving cases. In a densely populated area, one cell phone might use different cellular towers at different times. Trax uses an algorithm that looks at each tower in conjunction with each neighboring tower to determine the estimated coverage area and displays an overlay on the visual map.
Zetx has also developed a way to create an easily understood visual of callers' habits to pinpoint their location over time and on key dates. "We'll have heat maps that will figure out where people spend most of their time [based on where they're making calls from]," Ray says. "And for specific events like a homicide or robbery, the actual cell tower data can show where the events happened."
Another key component of Trax is how easily investigators can share their reports with everyone who might need to view the data during the course of a court case, without worrying about licensing issues or program compatibility.
"Anybody who has the free version of Google Earth can view the final product," Ray says. "You can burn it to disks for everybody." That means you can send Trax reports to the prosecutor and the defense attorney for discovery. These reports are saved as Google Earth-supported KML files, which are designed to hold large amounts of data in a very compressed file. This makes sending a file as an e-mail attachment simple.
Now Zetx is gearing up to roll out phase 2 of Trax, which will include an app to allow officers to receive real-time notification of a subject's location via GPS. This information can be sent to the phone of any other officer on duty via a dropdown menu to help find a suspect. But this geolocation tool can be used to locate officers as well. "It puts GPS on every officer in the department who has his or her phone on, so it's a big officer safety tool," says Ray.
For now, Zetx offers visual automated phone data analysis that every member of an agency can use on any device with an Internet connection. "We're trying to package Trax so it's affordable for smaller agencies of around 50 officers or less," says Ray. "It essentially gives those who don't have big resources expert cell phone record analysis abilities on a web-based program."