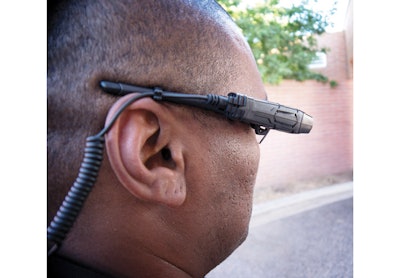 Despite Hollywood's predictions, you don't need to become a cyborg to tap into technology like head-up displays and wireless communications. The next big wave of computer technology is getting smaller, more powerful, and easier to wear, bringing officers closer to RoboCop's capabilities than ever before. Wearable technology includes pretty much anything high-tech that is worn close to or on the body. And you're most likely already using it.
We're not talking about merely hands-free tools. Law enforcement officers use all manner of lights mounted on the head, wrist, hand, pocket, epaulet, or on a weapon to keep hands unencumbered on duty, and they're extremely useful. But they're not generally considered wearable tech.
However, don't be surprised if in the near future your wearable lights automatically activate when you need them or provide other useful technology. This is the type of product law enforcement can expect coming down the pike.
On-body Cameras' Influence
As for what officers are using now, no one can discuss wearable tech these days without mentioning on-body evidence capture. This is by far the most recognizable example of wearable technology for law enforcement right now. In the aftermath of the highly publicized shooting in Ferguson, Mo., last year, public outcry for the wearing of on-body video cameras on duty has been deafening. Wearable evidence capture is currently set apart because of all of the issues surrounding it. But as technology changes, on-body cameras are already starting to incorporate many new functions that we usually depend on other devices to provide. And likely sooner rather than later, more wearables will find their way into patrol officers' daily kit.
Unlike dash cams installed in vehicles, on-body video moves with the officer. It can sit on the officer's chest or be attached to eyewear. In addition to recording video and audio, some on-body evidence capture devices use Internet connectivity to provide the officer wearing it with messaging and video streaming capabilities.
And in a strong move toward hands-free technology for officers, Google Glass is now an optional component of the CopTrax on-body evidence capture offering from Stalker Radar. It's called SmartGlass. Like a mini-computer, the device includes a built-in liquid crystal head-up display, touchpad, wide-view camera, microphone, full-functioning CPU, memory, USB, Bluetooth, and Wi-Fi. In the future, apps such as LPR (License Plate Recognition) and driver's license checks will be accessible through the SmartGlass display, according to CopTrax.
Independently, the New York City Police Department began testing Google Glass late last year, to determine how the technology might best benefit the agency. And companies like Sony are currently developing competitive products.
While the consumer version of Google Glass was pulled from the market, fueling rumors that the technology was too flawed to be useful, law enforcement and other "vertical markets" such as medicine and culinary instruction continue to benefit from the product. This may be the case with other products that consumers haven't fully accepted yet, such as fitness devices and smart watches, if companies start to tailor them to specific professions instead of the general consumer population.
Bill Switzer of CopTrax believes the recent focus on on-body evidence capture will lead the way and push the wider adoption of other wearables in law enforcement. The federal government seems to be betting on this trend as well. Top brass have already expressed interest in helping to fund the widespread adoption of on-body evidence capture for policing. And now the government is pushing to create other wearable technology for law enforcement officers.
Federal Push
A new public-private collaboration program spearheaded and partially funded by the Department of Homeland Security's research and development arm is pushing entrepreneurs to develop and manufacture wearable devices specifically for first responders, including law enforcement. The agency is looking for advanced sensors, smart voice and data communication chips embedded in gear, and health-related monitors.
The Virginia-based Center for Innovative Technology has been chosen to head up the project, called Emerge: Accelerating Wearable Tech for First Responders. The DHS is providing $750,000 to start it off as a pilot program. Two accelerators, Tech Wildcatters and TechNexus, will each select six U.S. applications by the summer and take these entrepreneurs under their wing to usher them through the development process.
By December all of the completed projects are expected to be on display and demonstrated at a pitch day. This is also when DHS involvement in the program is scheduled to be completed, but it's possible it will be extended. It's also possible some products will be marketable at that point, but it could take a few years before they are truly ready to be used by law enforcement officers in the field.
"We've made sure the first responders are remaining active in the cycle of development," says Prabhat Agarwal, director of consulting at the Center for Innovative Technology. The Department of Homeland Security has selected officers to act as consultants throughout the process to make sure any products will meet the needs of law enforcement.
This involvement could be especially important because resulting products won't necessarily be created for LEOs from the ground up. Agarwal says some of the products chosen for the Emerge pilot program may be existing consumer products that would be adapted for law enforcement.
Wrist Wearables
Consumer product trends often later inform technology for law enforcement, so it's certainly worth noting what the public is currently buying. The hottest new wearable in the news right now is the Apple Watch. Available Apr. 24, it will be offered in three versions and in 38mm and 42mm sizes, with prices ranging from $349 to $17,000, depending on how it's customized. In addition to keeping time, the Apple Watch can be used to deliver alerts, send and receive messages, monitor your heart rate, and provide recommendations for how to increase daily activity, among other functions. This could be useful for communicating and maintaining physical fitness both on and off duty.
But Apple Watch is only compatible with Apple's iPhones and, more importantly, it needs a smartphone to function. This dependence is one of the main hurdles for all wearable devices on the market. Some experts say the technology will only really take off when they can be used independently.
Wearables devoted to health technology such as the Fitbit and the Grip from Under Armour and HTC are still not widely used. Top concerns are unreliable info and privacy issues. Apple Watch competitors are reportedly hoping all of the buzz surrounding it will help boost sales for the entire category.
But industry analysts predict that in the next few years smart apparel will overtake and essentially replace wrist-worn wearable devices in the market place. If so, the same could hold true for law enforcement.
Smart Apparel
While Scott eVest has become known for its vests and other apparel designed to carry tech, new "smartwear" shirts are created to actually be smart devices themselves.
Montreal-based OMsignal debuted its biometric shirts for men in November with plans for a women's line in the works. Available in short-sleeve, long-sleeve, and sleeveless versions, these compression shirts cost around $200 each and come with a small black box that snaps onto the shirt to relay information such as heart rate and breathing to a smartphone. But it's sensors in the fabric's yarn that actually register the heart beat and breathing, then transmit the signals to the black box. The company is targeting athletes initially, and is providing name brands such as Ralph Lauren with a way to incorporate the technology into their clothing.
Applying this biometric technology to law enforcement, shirts and potentially ballistic vests could transmit important information to dispatch and other officers regarding an officer's health, including heart attacks and severe impact that could result from car crashes and gunshot wounds.
But if you can embed technology in apparel, why stop there? Wi-Fi-enabled clothing would allow officers to be tracked, even when far away from their vehicles. Currently, if an officer leaves a patrol car to engage in a foot pursuit and is shot by the suspect in the middle of a field, no one would be able to locate him or her. On-body Wi-Fi and GPS could save officers' lives.
Military Inspired
Law enforcement might also benefit from using wearable technology developed for the military. Currently, this includes head-up displays in helmets and ways to draw "wasted" kinetic energy produced while walking to charge smartphones or other devices.
Also, Raytheon recently developed a "wearable situational awareness" suit with a helmet-mounted display, laptop computer mounted on the chest, and 3-dimensional audio. This seems like it would be awfully cumbersome and distracting for a patrol officer. But a later incarnation might be small and powerful enough to be adapted to daily law enforcement use. For instance, if all of these functions could fit into a product like Google Glass, it could be feasible.
A similar solution, the HC1 headset computer from Zebra, contains a camera built into a speaker and microphone that can record and stream live video. It uses voice recognition and head gestures to allow users to access documents and applications. Additional sensors help determine internal and external hazards for the wearer. SWAT team members and motor officers already wear headsets for communications, so this could be a natural evolution for them.
According to Loren B. Thompson, a Virginia-based consultant to the defense industry, the military must determine the ruggedness and security of any of its wearable devices before putting them into service. The same would surely apply to law enforcement.
Obstacles
Thad Starner of Georgia Tech has been a proponent of wearable technology since long before the term gained popularity. He reportedly started wearing a computer of his own design in 1993, but has since overcome many of the obstacles that made his first attempt difficult to use. He now wears a much smaller, faster, and more functional computer that he uses for numerous tasks throughout the day. Using speech recognition technology, he takes notes and writes most documents with his wearable computer, which is more powerful than his desktop.
He combines a head-up display with instant messaging to contact colleagues and request information during presentations, all without looking away from the audience he's presenting to. Such technology could conceivably allow officers to communicate with fellow officers and dispatch while on an active call to send and receive information while an incident is developing. Of course, the issue of distraction would need to be addressed, among other concerns.
For his part, Starner considers the four main problems in using wearable tech to be power, networking, privacy, and interface. Power often requires large and heavy batteries to operate for any length of time. Networking requires an Internet connection, which can be difficult to maintain in certain locations. Privacy is a concern whenever you need to access something outside of a completely closed system. Interface is the way the user and computer interact, and there can be many variables that come into play there. Heat generated by high-powered devices is also a consideration.
Starner is part of a team at Georgia Tech working to address these issues in innovative ways, including developing a video camera designed to be worn by bomb-sniffing K-9s.
Many officers have additional concerns about using currently available wearables. First of all, they aren't cheap, and if they're damaged on the job they're too pricy to be fully reimbursed by the officer's department. But many officers would be precluded from wearing the devices on duty anyway because of jewelry restrictions. Then there's the lack of useful apps for many models and the need to use an also pricy smartphone for most wearables to function anyway. Privacy could also be an issue, similar to an officer's personal smartphone being used as evidence in a case if the officer uses the device in any capacity related to the case.
These are some of the same concerns consumers have. But if law enforcement agencies start issuing these devices as standard equipment, they will most likely be forced to address and resolve all of these issues first.
In the meantime, plenty of companies are working to improve wearable devices for consumers, hoping to improve their popularity. And more widespread use will no doubt lead to lower prices and improved technology, which could make wearables more accessible and functional for law enforcement. Familiarity may also improve public acceptance of officers wearing such devices.
Will officers forget how to police without wearables? This is an ongoing concern regarding reliance on technology, so it will most likely continue to be addressed, as it should.
How will law enforcement benefit from wearable technological devices? Only time will tell.