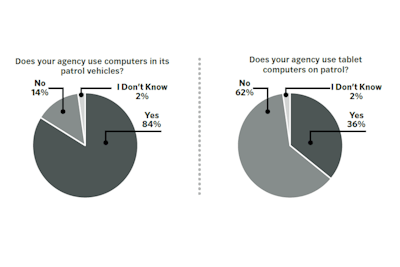 Last month we sent a special survey out to the working law enforcement readers of POLICE. We were making plans to attend the nation's largest law enforcement technology exhibition, the International Association of Chiefs of Police (IACP) Show, to be held this month in Chicago, and we wanted to know what technologies agencies are using and what officers think of them.
Here's what we discovered.
Video and Computers
Video evidence capture systems whether in the form of body-worn cameras or in-vehicle systems have become ubiquitous in contemporary law enforcement operations. More than 75% of the respondents to our survey say their agencies use body cameras or in-vehicle video. With digital video evidence capture systems comes the need for video data management, storage, and analysis tools. So it's no surprise that 74% of respondents say their agencies use these solutions.
It wasn't long ago that computers first became common equipment in law enforcement vehicles, first as mobile data terminals, then as true computer systems such as ruggedized or semi-rugged laptops. Now more than 84% of officers say their vehicles carry computers. Tablet computers are also popular, with 36% of respondents saying they use these devices on patrol.
Perhaps one of the reasons in-vehicle computers have become so prevalent in law enforcement is that so many computerized dispatch and patrol software tools have become popular. More than 80% of respondents say their agencies use computer-aided dispatch systems. Some 74% of respondents say their agencies provide patrol officers with the safety benefits of records management software. And more than 55% of respondents say their agencies use e-citation systems.
First Responder LTE
Since shortly after the terror attacks of 9/11, there has been a movement to establish a first responder cellular network. The idea is that during a major critical incident such as a natural disaster or terror attack, or even during a major athletic or cultural event, commercial cellular networks often become overwhelmed with traffic, and even public safety communications fail. In order to provide law enforcement, fire, and EMS with better communications, public safety broadband systems have been established.
Two first responder broadband systems are now online: AT&T FirstNet and Verizon's Responder Private Core. These dedicated LTE cellular systems have been discussed frequently in POLICE, so we asked in the survey: "Are you familiar with law enforcement broadband systems?" A total of 74% of respondents said they know about these first responder communications systems.
The follow-up questions were about usage of these systems. More than 46% of the respondents said their agencies are using law enforcement broadband networks. Since both of these systems are also available to individual first responders, we asked if the individual officers and deputies were using them. A full 40% of respondents said they use first responder networks on their personal smartphones.
Investigative Technologies
Some of the most innovative technologies being used in law enforcement operations are designed to help identify suspects and fight crime.
One of the most high-tech crime prevention tools in contemporary law enforcement is predictive policing, also known as analytics or intelligence-led policing. This is high-end data crunching that helps agencies predict where and when certain types of crimes will occur. More than 71% of respondents said they are familiar with this technology. Out of all respondents, 26% said their agencies use these tools, 53% said they didn't, and 21% said they didn't know.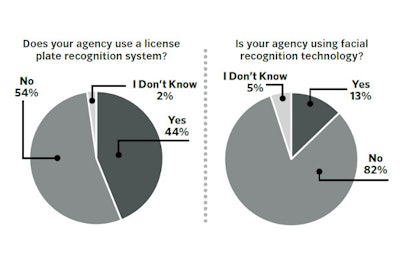 Automated license plate recognition (ALPR) is another high-tech crime fighting tool that we asked about in the survey. More than 44% of respondents said their agencies use this tool, which has helped police recover stolen vehicles, solve murder cases, break up human trafficking and drug trafficking rings, and even find lost people with disabilities.
Facial recognition is perhaps the most controversial investigative technology in use by contemporary law enforcement. Only 13% of respondents said their agencies are using this tool. And almost every one of the respondents who said their agencies are using facial recognition said they have faced community opposition to facial recognition.
Next-Gen Technologies
The next generation of law enforcement technologies has been reaching the market for about 10 years now, starting with cloud computing tools. TASER International (now Axon) launched its cloud video evidence storage and management system Evidence.com in 2009.
Cloud computing allows agencies to pay companies to store data for them, rather than store it on in-house servers. The subscription model reduces the upfront expense.
Ten years into the cloud computing era of law enforcement technology, most officers—89% according to our survey—are familiar with this concept. Some 41% of these respondents said their agencies use cloud solutions, 38% said they didn't, and 21% said they did not know if their agencies are using the cloud. A follow-up question asked respondents who said their agencies are using the cloud about how the cloud was being used. The most popular answers were video storage and management and general data storage.
Perhaps the most important and least understood law enforcement technology for the next decade will be artificial intelligence (AI). More than 89% of respondents said they are familiar with AI. However, AI-enhanced tools have yet to make a major impact at most of the respondents' agencies. Only 12% of respondents said they knew their agencies are using AI-enhanced solutions.
Needs and Wants
As part of the survey we asked two open-ended questions about what technologies respondents felt their agencies needed most in the future and what technologies were most critical for their current operations.
Although most agencies have patrol computers, some don't. So some respondents said they needed in-car laptops or tablets. ALPR was another popular response. Department-issued smartphones and faster communications networks were also common responses. Two respondents said their agencies need unmanned aerial systems (drones) with infrared imaging.
As for the most important technology currently in use by their agencies: respondents said: ALPR, in-car computers, body or in-vehicle cameras, computer-aided dispatch, records management systems, and integrated evidence management. But the most interesting answer about the most critically important law enforcement technology in use at an agency was, "The well-trained officer."