These heavy-duty devices are built to withstand rough use in the field.
Brother Mobile Solutions PocketJet 7 Printer
Brother's PocketJet 7 mobile printer allows users to print full-page documents while on the move. With built-in Wi-Fi and AirPrint compatibility, it provides the freedom to print virtually anywhere, from essentially any mobile device via Wi-Fi, Bluetooth, or by USB connection.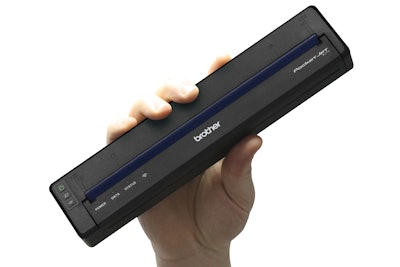 Brother also offers an array of available mount and carrying options for space-constrained vehicles and motorcycles. The PocketJet 7 can be used to print e-citations, summons, parking violations, warrants, evidence labels, and more. https://brothermobilesolutions.com/products/mobile-printers/pocketjet
CAB Solutions LLC Universal Vehicle Head Rest
CAB Solutions LLC, a police officer owned and operated company, designed the patented Pentax PJ Armrest Kit and Universal Vehicle Head Rest (UVHR) to replace bulky printer box alternatives that take up valuable space in your squad.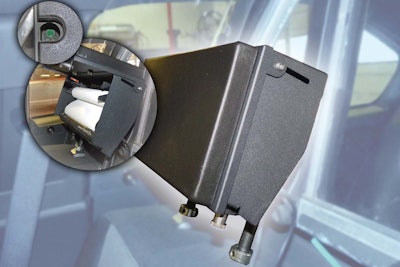 The all-in-one, adjustable kit fits easily into all patrol vehicles equipped with removable headrests. Compatible with Brother thermal printers, each UVHR kit comes with all of the parts needed for assembly. Also available as an armrest pedestal mount. CAB Solutions products are distributed by Baycom Inc. www.cabsolutionshome.com
Getac UX10 Rugged Tablet
Getac's UX10 has been designed to deliver portable performance in even the most demanding environments and features a detachable keyboard with retractable hard handle. For total security in authenticating users, the UX10 has an optional integrated fingerprint reader, smart card reader, magnetic stripe reader, an RFID reader, and can also offer a Windows Hello facial recognition camera.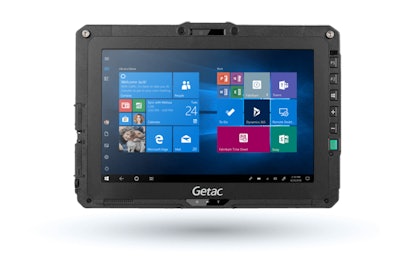 In addition to drop resistance and temperature tolerance, the UX10 features a LumiBond screen with 1,000 nits of brightness to make the display readable even in sunlight, as well as rain and glove touch capability for visibility even in extreme conditions. http://us.getac.com
Kyocera International Inc. Rugged Firstnet Ready 4G LTE Smartphone
Kyocera's military-grade rugged DuraForce PRO 2, a 4G LTE Android smartphone, has been added to its rugged devices available through AT&T. Designed for public safety and enterprise use, DuraForce PRO 2 is designed to be dependable and durable in even the harshest environments. DuraForce PRO 2 is also FirstNet Ready, so it's been tested and certified to operate on the FirstNet public safety broadband communications platform.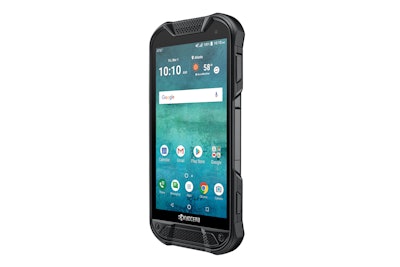 The smartphone features three waterproof cameras and supports HD Voice and Wi-Fi calling. Enhanced security features include a biometric fingerprint sensor built into the power button and Secure Device Encryption with FIPS 140-2. Kyocera says its gloved and wet screen operation ensure the device can be used in cold, wet, or muddy conditions. http://www.kyoceramobile.com/duraforce-pro-2
Panasonic Toughbook 55 Mobile Computer
Panasonic's new Toughbook 55 mobile computer features a modular design that supports the demands of public safety with extreme customization capability. Expansion packs offer a variety of additional features such as I/O ports, a fingerprint reader, dedicated graphics, and a second storage drive.
Both the main storage drive and optional second storage drive are quick-release for easier installation and access to the drives. The RAM and keyboard are both user-upgradeable. Often mounted in vehicles and used indoors and outdoors, this latest Toughbook is made to work all day on a fully charged battery. The Toughbook also has the longest battery life of any Panasonic Toughbook to date with the ability to "hot-swap" an optional second battery without powering down or interruptions. www.na.panasonic.com/us
RuggOn Blaxtone PM-311B Rugged Tablet
RuggOn's Blaxtone PM-311B rugged tablet is designed to provide a high level of security for public safety needs. This tablet can read up to three lines of machine-readable zone (MRZ) data, enabling it to capture, identify, and process passport, visa, and ID card information. Equipped with a 508-dpi capacitive and high-performance fingerprint reader, PM-311B can collect more detailed and accurate fingerprint characteristics which can be matched to databases.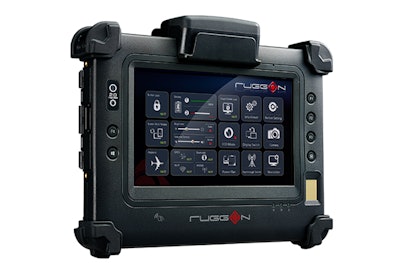 The PM-311B's 7-inch capacitive multi-touch screen is made with Gorilla glass and features optical bonding with an AR/AF sunlight readable solution and 850 nits to ensure optimized readability under direct sunlight. This tablet meets IP65 and MIL-STD-810G with 5-foot drop resistance and has a hot swappable battery design. Many expansion options are available as well. https://www.ruggon.com