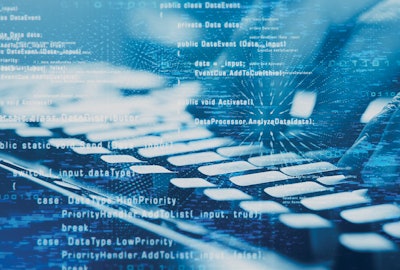 Back at the turn of this century many law enforcement agencies that gave patrol officers access to computers were using mobile data terminals with very limited capability. Now officers have access to laptops in their vehicles and mobile devices in their pockets, all with thousands of times more capability than those MDTs. That means these system can do much more than let officers know information about their calls.
The real power of desktop computers, in-vehicle laptops, and on-officer smartphones is their ability to run sophisticated software. Here's a look at some of the types of software available to improve officer safety and officer performance and what they can do.
RMS
From the moment computers were first installed in law enforcement patrol vehicles, there was a need to provide officers with critical information without having them call dispatch on the radio. The solution was borrowed from other professions, the records management system (RMS).
An RMS is an enterprise-wide software solution designed to ensure that an organization's information is constantly updated and accessible to the personnel who have been granted permission. The FBI says a police RMS "provides for the storage, retrieval, retention, manipulation, archiving, and viewing of information, records, documents, or files pertaining to law enforcement operations…An effective RMS allows single entry of data while supporting multiple reporting mechanisms."
Many RMS solutions incorporate information from FBI databases such as NCIC (National Crime Information System), NICS (National Instant Criminal Background Check System), IAFIS (Integrated Automated Fingerprint Identification System), and others. That means the computers and mobile devices running this software must have CJIS (Criminal Justice Information System) compliant security. This includes dual-factor authentication such as a password and biometric identifier or a password and a randomly generated authentication code provided by a text message or an app.
One of the greatest benefits of RMS is enhanced officer safety. Officers can learn almost instantly the criminal background of the individual they are encountering by using either a laptop, a tablet, or even a phone. They can also learn about other officers' contacts with that subject.
Motorola Solutions is one of the leading providers of RMS tools for law enforcement. The company's Spillman Flex allows users to enter and access data through a single-source database. Beyond standard RMS capabilities, Spillman Flex also can be used for crime analysis and integrates with Spillman's Jail Management tool.
Public Safety Professional Suite from CentralSquare Technologies also offers multiple capabilities, including RMS. Pro Suite is a powerful collection of computer-aided dispatch, records management, investigations, and jail management tools, but it runs on a single server, has just one point of login, is just one application, and uses only one database. Combining all of these tools into one suite, means officers don't have to launch multiple programs and click between them to do their jobs. Pro Suite speeds officer response and gives them key safety information on subjects before they make contact.
Investigations Management
One of the things they never show in TV cop shows or even in most true crime documentaries is the amount of paperwork involved. Investigations used to kill whole forests of trees. Now, there are so many pieces of digital information that have to be gathered for any investigation. There are video files, still images, audio files, and hundreds of document scans so you don't have to kill quite so many trees.
Storing and organizing all of those files has become a major challenge for law enforcement agencies. That's why one of the fastest growing categories of police technology is investigation management software.
Investigation management software helps agencies organize, store, and share all of the information from their investigations. The software allows officers to view all of the elements of a case without having to search for the information scattered across the server in different folders compiled by different units in the agency or worse track down CDs, DVDs, and jump drives.
One of the major benefits of investigation management software is that it helps officers be more efficient when working on their cases. This is becoming more and more critical as agencies reassign some investigators to patrol duty, leaving others with even heavier caseloads.
Omnigo makes one of the leading investigations management tools. The company's Evidence Management can be used by patrol officers, crime scene investigators, and detectives to organize evidence and maintain the chain of custody. The evidence can also be easily and securely shared with other agencies such as the prosecutor's office.
Another leading investigations management tool is Investigate from ShotSpotter. Investigate lets the agency centralize all investigations information, facilitates the compilation of courtroom ready cases, and even offers a community portal for uploading digital evidence from phones. Investigate is the subject of this month's "What Does My Tech Do?" article on page 72.
Scheduling
There are few tasks as challenging for law enforcement administrators as scheduling their personnel to ensure that enough officers are on duty. It's a task affected by union rules on seniority and vacation and so many other issues.
Even today, there are still agencies where command staff produces the schedule with pen, paper, and Post-It notes. There are also agencies where command staff produce the schedules using computer software that is not designed for workforce scheduling such as word processing tools and spreadsheets. And some agencies use scheduling software that is not designed for public safety operations. Dedicated law enforcement scheduling software can be a major time-saver and money-saver for law enforcement agencies, as it frees up some of their highest paid officers to perform other duties.
Schedule Express from SafeCities is a dedicated public safety scheduling tool. The cloud-based software follows the agency's rules, including collective bargaining agreements, and is configured to account for the agency's staffing levels. It even alerts administrators when there is a shortage of personnel for a shift.
Officer Efficiency
Many police agencies were dealing with a shortage of cops even before the 2020 in-custody death of George Floyd and the rise of the defund and/or abolish the police movement. Now the officer shortage is even more acute and agencies are looking for ways to do more with even less.
Two of the most effective officer efficiency tools are e-citation software and report dictation software.
Converting analog ticketing processes to digital ticketing can save officers a lot of time and increase agency revenue. Digital ticketing using e-citation software from companies like Saltus Technologies and Tyler Technologies reduces the time required to write a ticket and improve the accuracy of the information on the ticket. They increase agency revenues two ways: officers are back on the road faster to issue more citations and very few tickets are thrown out for bad information. Handwritten tickets are often illegible and result in mistakes.
Report dictation is another tool that many agencies are using to increase officer productivity. Report writing is one of the most time-consuming activities in law enforcement. It's been estimated that report dictation software can save officers as much as two hours per shift.
The most popular police report dictation software is Dragon LE from Nuance. Dragon LE is designed specifically for law enforcement use and offers customization of its dictionary so that it can recognize police-specific terms. The latest version of Dragon, Dragon Professional Anywhere, is a cloud-based solution that does not have to be installed into each computer and does not require on premise servers. Dragon Professional Anywhere also has features that let administrators send out customizations and templates to all users in their agencies. Bundled at no additional cost with Dragon Professional Anywhere is Nuance's mobile app, which allows officers to use Dragon on their tablets and phones.
Video Redaction
Body-worn video systems have become so common that it's odd to see an officer in uniform without one. But the camera is just one part of a video evidence capture and storage system. The total solution includes what's known as "back end" software for managing and storing the files. Included in many of these system is a redaction tool.
Redaction is critical for body camera programs because the public expects agencies to release the video they capture at critical incidents such as officer-involved shootings and they expect them to release it quickly. But agencies can't just release the video without removing sensitive images like driver licenses and license plates, child victims, and undercover officers.
This is a time-consuming process even with automated redaction tools. One way to make it faster and more accurate is automated redaction powered by artificial intelligence.
Veritone has applied its aiWare artificial intelligence technology to the problem and developed Redact, a device agnostic video redaction solution. Redact works with any video and audio streams that do not have proprietary formats. Speed is another great benefit of Redact, Veritone says the software can process one hour of video in less than an hour. Customers pay for the service per hour of data redacted, and there is no upfront cost to acquire the software. Redact is pushed out to users in the cloud, so the software is updated continuously. Veritone even provides storage space on its CJIS-compliant Microsoft Azure-based cloud at no additional cost to the user.
Online Training
Even before the explosion of anti-police sentiment in 2020, training was one of the most difficult personnel issues facing law enforcement agencies. Putting officers in the classroom means taking them off of the street. And the officer shortage is making that even more complicated, especially with overtime budgets stressed to breaking so that agencies can't just pay officers overtime to make sure the community is covered. That's why more and more agencies are conducting training online.
One of the largest providers of online training is Vector Solutions, formerly known as TargetSolutions, is a one-stop shop for online training. Integrated applications help agencies save time and effort managing training, assessing competencies, and documenting policy acknowledgements. Vector Solutions offers more than 250 hours of training on a wide variety of topics created specifically for law enforcement. The training platform also features a dynamic FTO solution, featuring customizable daily observation reports and forms to assess officers' competencies, document performance over time and track policies.
Facial Recognition
There is likely no more controversial law enforcement technology than facial recognition. The technology works by using algorithms and formulas to convert certain aspects of peoples' faces into numerical values and it is now being used as security on some consumer electronics. In law enforcement, facial recognition is most commonly used to develop leads in cases where video or photographic evidence was captured at the scene.
A number of facial recognition software makers are now incorporating artificial intelligence technology into their products. These systems actually learn more about faces and become more accurate with use. Last month POLICE published an in-depth report on two of these AI-powered facial recognition tools.
Clearview AI is a very powerful AI-driven facial recognition tool that has been called "Google for faces." The company's technology gathers photos of people from public sources on the web, including social media sites like Facebook, Twitter, and Instagram.
IDentify from Veritone is a facial recognition tool that compares images captured at crime scenes with known offender databases. It saves investigators from the tedious and laborious process of flipping through images of known offenders trying to match them to an unknown suspect image. IDentify is built on Veritone's aiWare platform, an artificial intelligence operating system that incorporates technologies developed by Veritone as well as technologies licensed for use from other developers by Veritone.