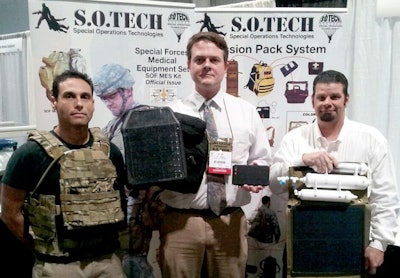 S.O. Tech and DynGlobal have developed a carrier vest system that uses integrated solar panels to charge tactical gear. The company will bring the product to SHOT Show in January to demonstrate its capabilities for law enforcement.
The companies debuted their V.I.P.E.R. Plate Carrier system at the Special Operations Medical Association (SOMA) Conference from Dec. 10-12 in Tampa, Fla. The company will demonstrate the system's capabilities for law enforcement at SHOT Show.
DynGlobal's "solar-harvesting" panel was initially developed for SOCOM so soldiers wouldn't need to carry bulky batteries. The companies worked closely with Special Operations soldiers during the development of the system.
S.O. Tech has designed a contoured, load-bearing carriage system to integrate the panel into a vest. The panel can power many common field items.
The carrier system allows a soldier to drop his MBITR radio into a S.O. Tech Cordura radio pouch and charge it while on the move. Power is pulled from a solar panel plate on the backside of the soldier's armor vest or mission pack. The solar-power system can also charge other electronic items such as GPS units, cell phones, laser range finders, NODS, flashlights, tablet PCs, satellite phones, and survival beacons.
S.O.Tech and DynGlobal have developed five other products:
A hydration-pack filtration system that removes bacteria, impurities, and radioactive isotopes from water.
A portable blood warming/cooling pack.
An solar-powered MBITR charger.
A portable micro-sized air conditioning unit for vehicles and tents.
A set of lightweight, rugged, high-output, folding solar panels to power individual tactical electronics at medical encampments, FOBs, and command centers.
"These technological advancements by DynGlobal have brought solar power out from interesting gadget and novelty toy into being a fully operational tactical advantage to every warrior in a combat/forward deployed environment," said Jim Cragg, president and chief executive of S.O. Tech.