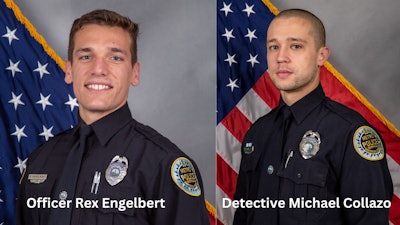 The Nashville police officers that stopped an active shooter inside a private school at a church March 27 now have publicly shared their experiences from that day. The three key officers who spearheaded stopping the shooter shared their recollections of the day during a press conference.
In a press briefing Tuesday, Metro Nashville Police Chief John Drake said Detective Sgt. Jeff Mathes, Officer Rex Engelbert, and Detective Michael Collazo "just wanted to save kids," reports FOX17. The officers each expressed their condolences for the families of the students and three adult staff members who were killed in the attack. Engelbert and Collazo were the officers who fired the shots to take the school shooter down and end the attack.
"Officers immediately went in. And if you notice, you saw one officer had on a helmet and that was totally great and the right thing to do. But then you saw other officers who didn't take the time to even put on ballistic helmets. They were so in tune to trying to get in and take this threat down that they didn't think about their own safety," said Drake. "We had so many personnel that were running in that didn't think about ballistic vests. They didn't think about ballistic helmets. They just wanted to save kids."
Mathes, an 11-year veteran of the department, that morning was working in his office when the call came in. He knew the address, was familiar with the area, and knew it was the church on the hill.
"My response, along with three of my detectives, was to run out the door. We donned our vests with ballistic protection and drove to the school," he explained.
He arrived at the school and was deploying his departmental shotgun when he heard Engelbert saying he needed three officers. Mathes pointed out that he had not ever met Englebert before that day.
He, Engelbert, and another officer were the first to enter the school.
"Our training is to follow stimulus when we enter these buildings for these active shooter situations. At that time, we did not have any. Our training then is to do a systematic room-by-room clerk, which is what myself and Officer Engelbert did," Mathes detailed.
Inside a downstairs atrium, they heard shots – the stimulus they had been trained to seek out. They advanced and proceeded up the stairs to a second floor hallway.
"Once in that hallway, the smell of gunpowder was in the air. It was also very smokey, obvious that there had been fire," he added.
They continued the advance, then encountered and neutralized the shooter.
Englebert shared that he was working a regular duty capacity, but was focused on some administrative tasks and was driving to the police academy when the active shooter call was dispatched. Other than that, he would not have been in that part of town to become one of the first arriving officers.
"So, I really had no business being where I was. I think you can call it fate, or God, or whatever you want, but I can't count on both my hands the irregularities that put me in that position when a call for service came out for an act of deadly aggression at a school," he explained.
He immediately activated lights and sirens and responded.
"I've been to I don't know how many false active deadly aggression calls, something told me it was time to really get to this one," Engelbert explained.
He arrived and a staff person handed him a large set of keys, singling out the key that the officers needed to use to gain access. He announced he had keys and rallied the other officers to join him. Like Mathes, he told of how they are trained to follow the stimulus but at first had none.
"When I did hear stimulus, I couldn't get to it fast enough. I just looked for the nearest staircase I could find because I could tell it was above my head. Eventually following the guidance of other officers, I luckily deployed my rifle, kept walking towards the gun, the sound of gunfire," he said. "There was, like sergeant said, smoke in the air. It was very, very similar to the training we receive, the stress inoculation that our training academy had exposed me to before this incident."
When he found himself on point, he then realized he should have deployed his rifle-caliber ballistic plate. He didn't, but he still charged forward.
Collazo, who works in the same unit and is supervised by Mathes, was also on the team of officers that was first to enter the school. He recalls the flow of information that was coming in while they were on the way to the school.
"Our dispatch was doing a phenomenal job. They were giving us as much updates as they could tell. They told us that the individual had entered into the school. They were actively shooting, gave us a description, and they were receiving this information from the individuals that were already on scene," he said.
He entered the same door that the shooter had used to access the school and recalls seeing the glass of the door had been shot out and shell casings were on the ground. Like the other officers, he reports there was no stimulus to follow initially once he was inside the school. He linked up with Mathes and other officers and they continued clearing rooms as they advanced.
They started hearing shots, and that is when he says "everything kicked into overdrive" for them.
"Like Sgt. Mattes stated, it was very distinctive. You could clearly tell that there were rifle rounds being fired," Collazo said.
"Not knowing where the shooter was and the distance that we would possibly encounter with the shooter, I asked Officer Rex to push forward for us, which he did without hesitation. We continued down that path until we encountered the shooter," Collazo explains.