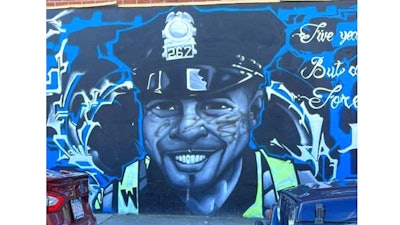 A mural honoring late Worcester Police Officer Manny Familia, who lost his life while trying to save a teenager from drowning at a city park in June 2021, was recently defaced. However, it didn't stay that way for long.
Shortly after Familia's death, local artist Ferdinand Nazario honored him with a mural on the side of Gala Foods on Chandler Street. The mural is 20 feet wide and 11 feet tall and depicts Familia's well-known smile.
"I did it because I heard so many good things about him and I never met him before. I had a family member that got into a really bad car accident, and he was the first person on the scene to help my cousin," Nazario tells Boston 25 News.
The mural was vandalized with writing across Familia's face sometime in March. However, Nazario responded last week and repaired the mural after learning of the vandalism.
"Mr. Nazario, please know how much we appreciate your talent and kindness! Your mural is a permanent tribute to our hero Manny and it means so much to the community. Thank you," the Worcester Police Department posted on its Facebook page.