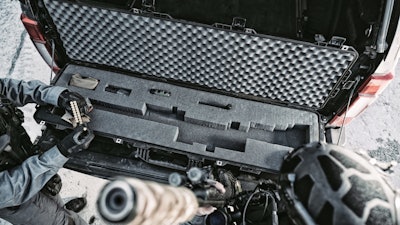 Police departments, as well as individual officers, can shell out a lot of money for patrol rifles, optics, weapon-mounted lights, and other accessories. So, it is logical to protect the investment. While there are various ways to encase and protect a firearm, hard-side cases can provide a lockable solution that stands up to hard knocks and abuse.
Vince La Duca, product manager for cases at Pelican Products, Inc., has been with the company almost five years and is responsible for the Protector line, the Storm line, the Vault line, and the Air case line.
"Whatever you're putting it in, if it's a rifle, or if it's a radio, or whatever it is, the hard-side case is going to give you that crushproof protection. A soft case is not going to do that, especially on a firearm," La Duca says. "If you had optics on it, or a red dot, or anything like that, you definitely will want to have it in a hard-side case to protect those optics that are on that particular rifle."
In addition to protecting the contents from being crushed, good hard-side rifle cases also offer waterproofing and dust protection. La Duca says the IP67 rating is becoming the gold standard in the case industry for protecting contents from the elements.
He also points out the longevity of a hard case, saying you may buy it and have it for your lifetime and then pass it down to your son or daughter and they can continue to use it throughout their lives.
"The lifetime warranty is also, in a sense, a sustainability play because our cases don't end up in landfills at all. So that's another interesting angle that you can say about a lifetime case, I mean, they are built to last forever," he adds.
He explains cases come with differing types of foam inside, with some using multiple layers of sheet foam that are robust while others use Pick N Pluck foam where pieces can be removed by the customer to craft a cavity for holding a specific firearm or other gear. Either style will allow for the customization to fit a specific rifle and its configuration. Nowadays there are also opportunities to order custom-cut foam for customization for a specific rifle. Some cases now also can offer the option of adding MOLLE attachment points inside the lid to store gear.
Whatever the case in use, maintaining the operating ability and accuracy of the weapon inside is "mission critical," says La Duca.
"I'm thinking about protection of that rifle and making sure that it's going to be ready when you need it, and it's going to be zeroed when you need it, and there are not any issues as it gets potentially thrown into the car and around. You don't have to worry about it until you're ready to pull it out of that case and I think knowing that it's going to be absolutely secure and ready to roll when you take it out of that case, that's the part that the officer is going to want to have," he says. "If it's in a soft bag, and you throw it around or it's been sitting in that soft bag for a while, you might question that. And doubt is a bad thing. Doubt takes time to think through and a lot of times there's no time."
With ample options for storing and transporting firearms, where can an agency or department begin when they start the buying process for rifle cases?
Below, La Duca provides what you should considering when you are shopping for a rifle case.
1. Durability
Is the case impact-resistant? Has the case been mil-spec tested and/or certified? Has the specific model been tested? Is the case waterproof, crushproof, and dustproof? Has the case been tested and certified IP67 rating?
2. Lockability
Can the case be secured? For TSA requirements, cases with rifles must be padlocked. Cases with hasps to thread locks are necessary.
3. Transport / Weight
Is the case easy to transport? Many long cases are equipped with wheels and stainless steel ball bearings for ease of transport. Gear can be heavy and having a heavy case creates a heavier load. That is why Pelican developed the Air series of cases, to offer protection for gear without the weight.
4. Features
What features does the case offer? He says his cases provide a variety of features including over-molded handles, an automatic pressure relief valve, stainless steel hardware, and organizational accessories such as EZ-Click MOLLE panels.
5. Lifetime warranty
Does the case have a lifetime warranty? You want to trust that your case will continue to protect when it matters most.