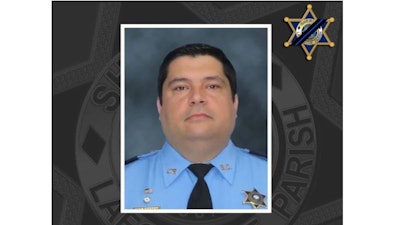 A Lafourche Parish Sheriff's Office (LA) deputy died Sunday after his patrol vehicle was stuck by a suspect's vehicle following a pursuit. Detective Sgt. Nicholas Pepper, 44, was pronounced dead at a local hospital following the crash and the suspect is in custody.
"Nick epitomized all that is honored and revered in a peace officer," says Sheriff Craig Webre in a post on the department's Facebook page. "The tremendous outpouring of love and gratitude from the community is truly appreciated. I ask that you continue to keep Sgt. Nick Pepper and his family, as well as our sheriff's office family, in your thoughts and prayers."
Just before 4 a.m. Sunday, the sheriff's office received a call informing deputies that the Houma Police Department was involved in a pursuit with a suspect who had entered Lafourche Parish. The pursuit led officers to an area in Thibodaux where the suspect stopped. After speaking with officers who were attempting to negotiate, the suspect accelerated and struck Pepper's vehicle which was positioned nearby. The injured deputy inside the vehicle was transported to a local hospital where he later succumbed to his injuries.
Pepper began his career at the Lafourche Parish Sheriff's Office in October of 2007. He served his entire career in the investigations division, most recently as a supervisor in adult investigations. He was an integral part of nearly every major criminal investigation in Lafourche Parish for more than a decade. Prior to his sheriff's office career, he spent time with the Houma Police Department and the Terrebonne Parish Sheriff's Office, part of a law enforcement career that spanned nearly 24 years of service.
Pepper's wife, Christie, is also employed through the Lafourche Parish Sheriff's Office as an investigator for the Lafourche Parish District Attorney. He also leaves behind two daughters and a son.
"We are all processing and grieving this horrific and tragic death of one or our own. We are with the family providing them with support and prayers at this unbelievably difficult time. We ask for the community's love, prayers and support as well," adds Webre.
Louisiana State Police investigators are leading the investigation.