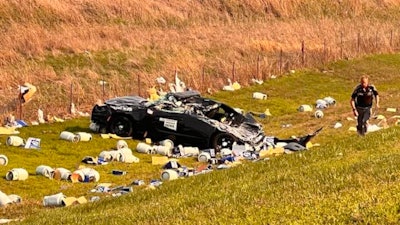 A tractor trailer struck both a fire truck and a highway patrol vehicle that had responded to a roll-over crash Friday in Catoosa, OK. The trooper was not inside the car when it was hit.
Catoosa Police Chief Ronnie Benight says the two emergency vehicles were on the scene of a crash when the big truck slammed into them. First responders were able to scramble to safety and none were injured.
"A special thank you to God that our state trooper wasn't sitting in that patrol unit," the chief adds.
Benight says many things led to this particular incident, including the high winds which led first responders to be there in the first place.