The Metro Nashville Police Department has released video of officers rushing toward the gunfire to end the active shooter attack at Covenant School Monday.
Police say five officers were involved in the response and two fatally shot the killer.
The video released Tuesday shows the response from the body cameras of Officer Rex Engelbert and Officer Michael Collazo. Police say the two officers fired the shots that ended the attack, and they are being hailed as heroes both locally and nationwide.
Engelbert is a four-year veteran of the police department; Collazo has been on the force nine years. Chief John Drake said during a news conference Tuesday afternoon that Collazo has trained as a paramedic with the SWAT team, the Tennessean reports.
During the response multiple officers cleared the first floor of the building and then headed to the second floor when they heard gunshots. They enter the building at about 1:10 mark on the video and shoot the killer about two-and-a-half minutes later.
It's evident from the video the officers were well trained in active shooter response. They communicate well, they clear rooms efficiently and thoroughly, and they push hard toward the sound of the gunfire.
Police say the first 911 call from the private Christian school was received at 10:13 a.m. By 10:24 a.m., the killer was dead.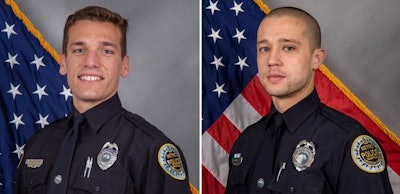 Engelbert fired at least three shots at the killer from an AR-variant rifle.
Following closely behind Engelbert was Collazo, who fired four rounds at the killer from his handgun while issuing orders not to move.