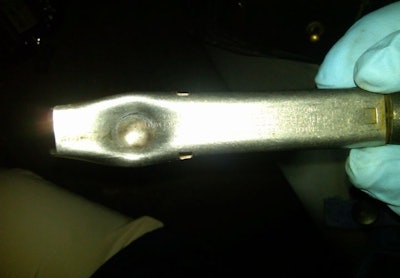 A spare ammunition magazine likely saved a New York City police officer's life early Monday, when a suspect's 9mm round struck the gear during a running gun battle in lower Manhattan.
"It was a very close call for Officer [Thomas] Richards," Police Commissioner Ray Kelly said in a statement. " The magazine may have well saved his life."
The gun battle erupted at 1:44 a.m. today, when NYPD officers Richards and Thomas Dunne approached a man acting suspiciously outside of a closed drug store at 47 Columbia St. They were patrolling Police Service Area 4.
The officers exited their departmental van, and approached 25-year-old Luis Martinez, who muttered something indecipherable before turning toward Officer Richards, and firing numerous times.
One of the rounds struck the magazine attached to the gun belt of Officer Richards, an 11-year veteran. The officer returned fire, and a foot pursuit ensued as the suspect fled on Columbia down Rivington Street toward Baruch Drive.
After several blocks—about 200 feet from an apartment complex at 64 Baruch Drive—Martinez stopped, turned, and again fired at the officers, who returned fire.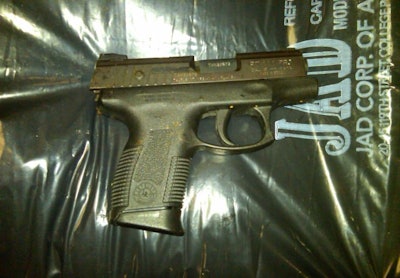 After reaching the apartments, Martinez turned and fired for a third time in the direction of the officers, who again returned fire. Martinez was struck in the upper right leg, and ran into the complex. Responding Emergency Service Unit officers followed his blood trail to Apartment 6C, where Martinez resides, and took him into custody.
Martinez's 9mm Taurus handgun was recovered from the trash compacter at the complex.
Officer Richards is the fourth NYPD officer shot in two months. Officer Peter Figoski was fatally shot Dec. 12 while breaking up a robbery in Brooklyn. Officer Kevin Brennan was shot in the head on Feb. 1, while pursuing a suspect in a Brooklyn housing project. On Feb. 15, Detective Kevin Herlihy was shot in the left biceps by a career criminal.
Listen to NYPD Commissioner Ray Kelly's press conference about the shooting: