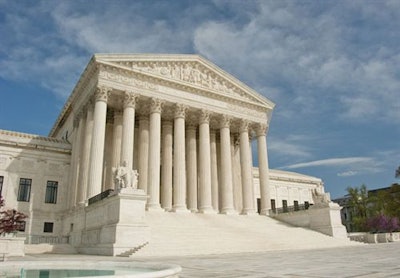 The U.S. Supreme Court ruled 6-3 Wednesday in favor of a Los Angeles County Sheriff's detective who recovered a firearm and gang-related material from the home of a suspect's foster mother.
In Messerschmidt v. Millender, the court granted qualified immunity to Det. Curt Messerschmidt and other police officials who searched the home of August Millender.
Police were looking for Millender's foster son, Jerry Ray Bowen, who had recently shot at his ex-girlfriend Shelly Kelly with a black sawed-off shotgun. Kelly told police that Bowen might be at his foster mother's house, so Messerschmidt got a warrant to look for any weapons on the property and gang-related material, since Bowen was supposed to be a member of the Mona Park Crips and the Dodge Park Crips.
The detective had his supervisors approve the warrant before submitting to the district attorney and a judge, who also approved the warrant, reports the Associated Press.
The deputies had seized the 73-year-old Millender's home-defense shotgun and gang-related material, which wasn't a match with the shotgun used by Bowen.