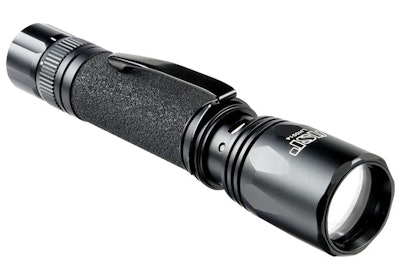 Remember when you had to use a huge cradle to charge your cell phone? According to ASP CEO Kevin Parsons, the unwieldy flashlight charging station drilled into many officers' cars will soon also be a thing of the past...and the company's Triad USB light is the future.
As its name implies, the ASP Triad USB uses a Micro USB port to make charging the lithium-ion-powered duty light a snap anywhere.
"We wanted it to be convenient and easy to use," says Parsons. "So each of the lights comes with a charger for the car, a wall charger, and a retractable cord. Now you can even use your computer to recharge the light."
An early adopter of both LEDs and lithium batteries in its flashlights, ASP is making the move to the USB port in anticipation of a new global standard. All cell phone manufacturers, even Apple, have agreed to implement the Micro USB as the universal phone charger power connector in 2012. Very soon, if you have your cell phone charger with you—as most of us always do—you have a way to recharge your flashlight, even at home or while traveling.
"Nobody had used this type of charging," says Parsons. "But just like when we first started using LEDs with the ASP Sapphire light so many years ago, we see this as a very convenient way for officers to have a very bright light constantly charged with them."
Measuring 5.5 inches long and weighing 5.4 ounces with batteries, the Triad USB is designed as an easy-to-carry duty light. Powered by a 18650-lithium ion battery, it produces 300 lumens of light with a continuous runtime of 90 minutes. It also lasts for 300 to 500 charges, depending on how deeply it's charged, and comes with a lifetime guarantee for any defect in material or workmanship.
ASP designs all of its products, and one of the features that makes the Triad USB different and so easy to carry is its patent pending pocket clip. It snaps on and can be removed just as easily, with no screws to be lost. When attached, the clip fits into a ring that allows you to carry it bezel up or bezel down, depending on the ring you choose.
Engineers at ASP also developed the car and wall chargers to ensure quality. A steady green light means the unit is fully charged, while a blinking red light means it is not. Because some people are red-green colorblind, the blinking light provides an additional indicator anyone can discern.
One feature that is not new but the company is known for serves multiple purposes in this light. "The Triad light has a foamed vinyl grip, the same grip we developed long ago for the ASP baton," Parsons says. "It's extremely durable and provides a tacky feel, but at the same time provides a cushion and insulation from the heat this type of light gives off, which is important."
In addition to all this, the Triad USB shares the same key features as ASP's other Triad series lights, including its three-position switch. Rotating the actuator to the left provides intermittent light. Positioning the actuator to the right provides constant illumination. The center position locks the switch to prevent accidental activation.
Each of the lights also comes with a ballistic nylon zippered case you can use to store the cord, wall and car chargers, and clip-everything you need to continually charge and use the Triad USB.
"People have enough stuff hanging around," says Parsons. "We tried to make something very small, very convenient, that fits a worldwide standard and allows people to charge at home, at work, or to carry charging with them at all times."