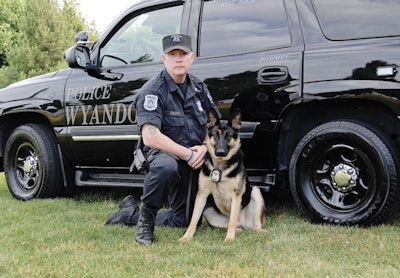 Officer Dan Foley has spent the last 26 years with the Wyandotte (Mich.) Police Department. Within that time he has served continuously in the honor guard and successfully lobbied to start its first K-9 unit, for which he was a handler for 14 years with two different dogs. For his passion and devotion, Officer Foley has been selected as the February 2012 Officer of the Month by the National Law Enforcement Officers Memorial Fund.
Most rookies are busy concentrating on the thrill of the chase, not their mortality or anyone else's. But as a new officer at Wyandotte PD, Foley jumped at the chance to fill an open position on the department's honor guard, helping to put officers to rest as well as occasionally marching in parades. It's hard for him to explain what motivated him to join, and then to stay with the honor guard for so long. It's certainly not for monetary compensation, of which there is little or none.
"When the family members come up to you and you see in their eyes what it meant that their loved one was cared for properly and honorably, and wasn't forgotten in the case of retirees...early on it triggered something in my heart and in my head that said this is the right thing to do," says Foley. "As we say, 'Never forgotten.'"
This is not to say that Foley doesn't appreciate a good chase and catching criminals. Another longtime passion of his is working as a K-9 handler. He lobbied long and hard to convince department administration to start its own detail, at a time when K-9 units were not common in his area.
"All I wanted to do my entire career was to handle a K-9," Foley says. "Very shortly after I came on the department I remember going to a demo that a local training facility put on regarding the K-9 program and that was it. I was bitten from that point on, no pun intended."
Foley and his first K-9, a German Shepherd named Khan after Genghis Khan, frequently deployed with local, state, and federal agencies, "seizing in excess of $600,000 in narcotics-related cash and property," according to the Wyandotte PD's Website. Khan died of the neurological disorder German Shepherd Degenerative Myelopathy in 2006, but Foley didn't throw in the towel. He and his current K-9, Rommel, named after the general, were assigned to the Special Operations Unit.
In addition to aiding officers with searches out in the field, both Foley and Rommel have enjoyed visiting children in schools and acting as goodwill ambassadors on behalf of law enforcement. People who remember meeting him in class still come up to Foley and tell him how much they enjoyed the encounter when they were kids. While he readily recognizes the positive influence he has had on such children in allowing them to see a more human side of police officers, he's less comfortable accepting a formal award for his service to the community.
"It's a little awkward receiving this recognition. There are many officers out there that are just as passionate as me," Foley says. "My wife is extremely proud, as are my kids."
After spending so much time in the profession, he hasn't ruled out returning to law enforcement at some point after hanging his hat up at the end of 2011, and apparently neither has K-9 Rommel.
"I'm still trying to wrap my head around this thing they call retirement. Same with my K-9," Foley says. "It's been an incredible honor to be able to serve the citizens of the City of Wyandotte."