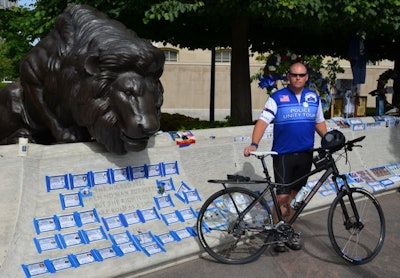 Sgt. Randy Crowther of the Orem (Utah) Police Department rode a Safariland/Kona Patrol Bike 29er in the 2012 Police Unity Tour, the company announced.
Sgt. Crowther left Somerset, N.J., with a group of 300 other officers from the Western U.S. for the first leg of the tour. This group was part of a much larger assembly of law enforcement officer cyclists who were making the ride to Washington, D.C. to take part in the National Law Enforcement Officers Memorial Foundation (NLEOMF) memorial ceremony during National Police Week.
"Having Safariland's new Patrol Bike participating in the Police Unity Tour, which has helped to raise over $12 million dollars for the NLEOMF is especially gratifying, and I am very proud to have represented Safariland on this ride, as well as at the ceremony," said Crowther.
Sgt. Crowther was in the first group of riders arriving after putting 300 miles on the new Safariland duty bike. The Police Unity Tour arrived in Judiciary Square in Washington, D.C. at the National Law Enforcement Officers Memorial on May 12. The Police Unity Tour travelled from N.J. to Philadelphia, Baltimore, and Washington D.C.
Crowther was among the 1,500 riders who presented a check to Craig W. Floyd, chairman and CEO of NLEOMF. The tour raised $1.65 million this year.
In preparation and training for this event, Sgt. Crowther logged approximately 1,150 miles total on the patrol bike. The bike won praise from all the riders and performed flawlessly.
"The bike has been a real workhorse," said Crowther. "The drivetrain, balance, sturdiness, and overall handling characteristics are exactly what I and many officers are looking for in a patrol bike. This is a bike you can be on all day, every day, and it won't let you down."
Related: