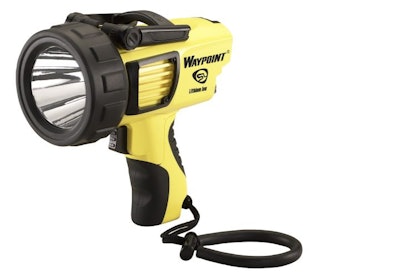 Streamlight, Inc. has introduced a lithium ion rechargeable version of its Waypoint spotlight. The new handheld, pistol grip searchlight, featuring C4 LED technology, is designed to provide extremely bright lighting with an integrated long-range targeting beam. The waterproof light will float if dropped in water, according to the company.
"The Waypoint Lithium Ion Rechargeable is the ideal spotlight for boating, camping and other outdoor pursuits, as well as for a wide variety of search and rescue and other first responder applications," said Michael F. Dineen, Streamlight's vice president of sales and marketing. "It's not only rugged and dependable, but it also uses a long-running rechargeable battery that is dependable in low-light situations, whether used as a handheld mobile searchlight, or as a hands-free stationary light to illuminate a scene."
The Waypoint's deep-dish parabolic reflector produces a long-range targeting beam while also optimizing peripheral illumination. Powered by a lithium ion battery with an on-board safety control circuit, the Waypoint Rechargeable provides 5 hours of run time on the high setting, 50 hours on low, and 35 hours in emergency signal mode.
The rechargeable Waypoint model offers three lighting settings, including high, low, and emergency signal modes. On the high setting, the light delivers 300 lumens measured system output and 80,000 candela peak beam intensity, over a range of 560 meters. On low, the light provides 25 lumens and 6,100 candela, over a range of 155 meters. The light's C4 LED is impervious to shock and features a 50,000 hour lifetime.
The new spotlight features a trigger-style switch with momentary or click on/off operation. It has a cushioned handle grip that eliminates user hand fatigue, comes with a high-strength wrist lanyard, and features an integrated stand for hands-free scene lighting.
The lightweight Waypoint Rechargeable weighs 1.5 pounds and measures 6.75 inches long by 7.14 inches high. The Waypoint features an IPX8 rated design for waterproof operation to two meters.
The new spotlight is available in black and yellow, and comes with Streamlight's Limited Lifetime Warranty. The Waypoint Rechargeable retails for $200.