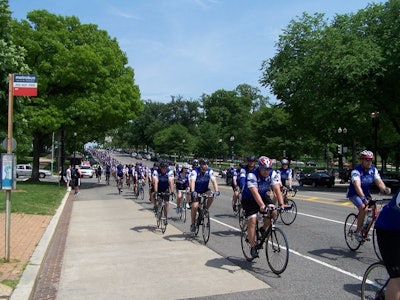 More than a thousand members of the Police Unity Tour—a group comprised of mostly officers—will complete their 2012 journey to the National Law Enforcement Officers Memorial in Washington, D.C. today.
The riders are expected to arrive today at the memorial at approximately 2 p.m. to the cheers of thousands of family members, friends, colleagues, and supporters.
Upon arrival, each rider will pedal through the memorial's "Pathways of Remembrance" that flank the memorial walls. Once each rider has filed on to the memorial grounds, there will be a brief ceremony with remarks by the Police Unity Tour's board of directors and Craig W. Floyd, the National Law Enforcement Officers Memorial Fund's chairman and CEO. Patrick Montoure, chief of the Florham Park (N.J.) Police Department, founded the Police Unity Tour.
Because the Police Unity Tour raises funds for the memorial, tour organizers will present Floyd with a check for the amount of funds raised by each rider participating in the 2012 ride. At the conclusion of the ceremony, each rider will receive a medal commemorating this year's ride.
Along their routes, riders stopped at 14 Target stores to further the group's primary mission of raising awareness about law enforcement officers who have died in the line of duty. Target is a sponsor of the Police Unity Tour, the Memorial Fund's National Police Week activities, and the law enforcement community.
Related: