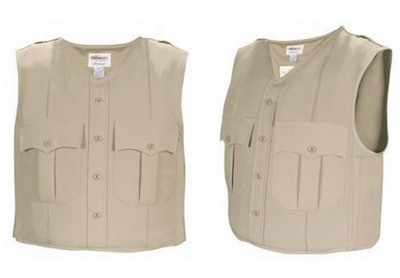 OfficerStore.com is proud to partner with Elbeco to make the new V1 TexTrop External Vest Carrier available to law enforcement officials across the country, according to the online distributor.
It was recognized by the North American Association of Uniform Manufacturers and Distributors (NAUMD) as its 2012 UNIVATOR Award winner for product innovation. Designed to be worn over a uniform shirt, house the wearer's current vest and appear non-threatening, this vest carrier helps solve the problem with ballistic vest carriers currently on the market without compromising officer safety.
The V1 External Vest Carrier is a cosmetic outer shell intended to house the wearer's current vest in its original concealable carrier. The external vest carrier fits most carriers on the market today where front and rear carrier assemblies separate at the shoulder and have either hook and loop or adjustable strap mechanisms.
Designed to identically match the Elbeco's TexTrop shirts, this vest is available in nine colors and 17 different sizes. By accommodating a wide range of both male and female vests, delivery is quicker without needing to custom order. The V1 blends in seamlessly with an officer's uniform shirt, making it virtually undetectable even at very close range.
Every feature of the vest carrier is designed to make law enforcement's job easier. Two fully-functional pleated pockets with scalloped flaps give plenty of room, while hook and loop closure, a pen opening in both pockets and a pocket flap makes it easy to access the tools you need. Box-stitched shoulder straps provide ideal mic openings. Back-to-front hook and loop side panels allow for infinite adjustment as well as quick and easy on/off. A heavy-duty twill-lined interior adds durability, while interior pouches in the front and back allow for convenient insertion or removal of an existing concealable vest carrier.
To match the TexTrop shirt, the vest carrier has three stitched-in military creases on the back and two on the front. Single-needle detailing creates a tailored, professional appearance. A false button front placket featuring high-impact melamine buttons completes the match to a TexTrop shirt. Made of 100% tropical weave polyester, the vest carrier is easy to clean and is machine washable.