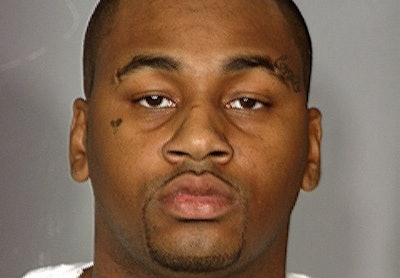 Self-proclaimed pimp Ammar Harris was indicted by a grand jury on charges he killed three people on the Strip in February.
Prosecutors said Harris shot and killed reputed pimp Kenneth "Kenny Clutch" Cherry Jr. as the two were driving separate vehicles on the Strip early in the morning of Feb. 21.
The shooting caused Cherry to crash his car into a taxicab, which burst into flames, killing the driver, Michael Boldon, and his passenger, Sandra Sutton-Wasmund of Maple Valley, Wash.
Harris was arrested Feb. 28 in Los Angeles. He fought extradition to Las Vegas for nearly six weeks. During his extradition, Harris also unsuccessfully attempted to escape from custody, prosecutors said.
He faces nearly a dozen charges stemming from the incident: three counts of first-degree murder, two counts of discharging a firearm into a vehicle, five counts of discharging a firearm out of a vehicle and attempted murder.
Read the full Las Vegas Review-Journal story.
Related:
Las Vegas Strip Shooting Suspect Faces Extradition from L.A.
Las Vegas Police Name Suspect In Deadly Shooting