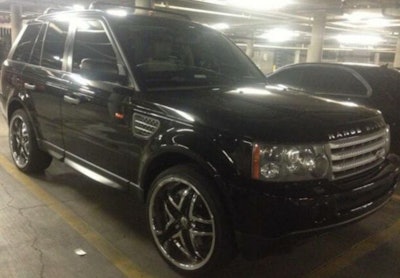 The manhunt for a pimp suspected of killing an aspiring rapper and two bystanders on the Las Vegas Strip continued Monday, after police identified the suspect and located the black Range Rover used in the shooting.
Las Vegas police investigators belive Ammar Harris, 26, opened fire on the Maserati driven by Kenneth Cherry at 4:20 a.m. Thursday in front of the Flamingo Hotel, police said. The Maserati struck a taxi in the intersection of Las Vegas Boulevard and Flamingo Road, causing a fiery explosion and the deaths of driver Michael Boldon, 62, and his passenger, Sandra Sutton-Wasmund, 48.
A passenger in Cherry's vehicle survived and has been cooperating with police.
On Saturday, police recovered the Range Rover with blacked-out windows parked inside Harris' parking space at the high-end Meridian Apartments near the Strip.
Harris has an extensive and violent criminal history and is considered armed and dangerous, police said. He was arrested on pandering, kidnapping, sexual assault and coercion last year, reports the Las Vegas Review-Journal. He has several distinctive tattoos including a heart-shaped tattoo below his right eye, and a large owl tattoo on his neck.
The shooting stemmed from an argument at the valet area of the Aria resort following a performance of Morocco-born rapper French Montana at Aria nightclub Haze.