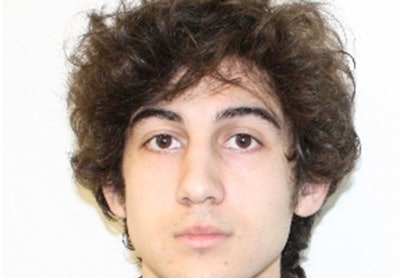 Federal authorities charged the surviving Boston Marathon bombing suspect Monday with using a weapon of mass destruction against people and property.
Attorney General Eric Holder announced the charges and a White House spokesman said that Dzhokhar Tsarnaev, 19, would not be charged as an "enemy combatant." Tsarnaev had his initial court appearance in his hospital room.
"Although our investigation is ongoing, today's charges bring a successful end to a tragic week for the city of Boston and for our country," Holder said in an FBI release.
Dzhokhar, who became a U.S. citizen on Sept. 11, and Tamerlan Tsarnaev, 26, allegedly set off a pair of IEDs at the finish line of the April 15 marathon. The explosions killed three and injured more than 200 people.
U.S. Attorney Carmen Ortiz has not announced whether prosecutors would pursue the death penalty. The charges were filed in U.S. District Court for the District of Massachusetts.
"The impact of these crimes has been far-reaching, affecting a worldwide community that is looking for peace and justice," Ortiz said in the release. "We hope that this prosecution will bring some small measure of comfort both to the public at large and to the victims and their families that justice will be served."
On Monday, Dzhokhar was reportedly communicating with authorities in writing, reports USA Today. He suffered a neck wound during the manhunt. Ortiz said Friday the FBI interrogated Dzhokhar without advising him of his Miranda rights.
Dzhokhar was captured Friday evening hiding in a boat on a Watertown property after an intensive manhunt in which MIT Police Officer Sean Collier was shot and killed and MBTA Transit Police Officer Richard Donahue was critically wounded.
"Finding the alleged perpetrators of this savage act of terrorism four days after the attack on the city of Boston was a herculean effort and shows the true cooperation and dedication of the law enforcement community," said Boston Police Commissioner Ed Davis. "We were relentless in our pursuit of the suspects. The arrest of Tsarnaev and today's charges should send a clear message to those who look to do us harm, the entire law enforcement community will go after you, find you, and bring you to justice."
Read the full criminal complaint here.