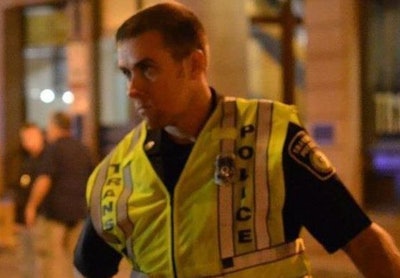 An MBTA Transit Police officer wounded by gunfire while pursuing the Boston Marathon bombing suspects early Friday remains in stable condition at Mount Auburn Hospital in Cambridge.
Details of the encounter between the officer, identified as 33-year-old Richard H. Donahue Jr., and the suspects remain unclear. Transit leaders who visited Officer Donahue at the hospital said he "did lose a lot of blood," reports the Boston Globe.
"We're doing everything we can for the officer's family," Beverly A. Scott, general manager of the T, told the Globe.
Friends and relatives described Donahue as a "super nice guy" with a military-academy education, reports the Roanoake Times. Jake Copty, a classmate of Donahue's from the Virginia Military Institute, wrote on his Facebook page that Donahue likely "gave no quarter to those who would attack his city."