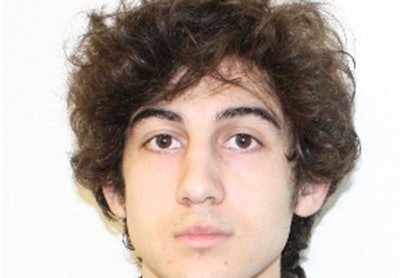 A massive law enforcement manhunt is under way in the suburbs of Boston for a man identified as one of the Boston Marathon bombers. Another suspect was killed last night in a shootout with law enforcement. A campus police officer from the Massachusetts Institute of Technology was killed by the suspects and a transit officer was critically wounded.
The surviving suspect has been named as Dzhokhar Tsarnaev, a 19-year-old who had been living in Cambridge, just outside Boston. The dead suspect is believed to be his brother Tamerlan Tsarnaev, 26. The brothers attended Boston-area colleges.
Dzhokhar is an ethnic Chechen who was reportedly born in Kyrgyzstan, his uncle Ruslan Tsarni has said.
The release last night of numerous images of the suspects triggered either a second wave of attacks or a desperate attempt to escape by the suspects.
Massachusetts State Police Col. Timothy Alben told the Boston Globe that the night's outbreak of violence began when police received reports of a robbery of a convenience store in Kendall Square near MIT. A few minutes later, MIT Police Officer Sean Collier was shot on the MIT campus. Officer Collier, 26, was pronounced dead at Massachusetts General Hospital.
A short time later, two men carjacked a Mercedes-Benz SUV at gunpoint, and the owner of that car was able to flee at a gas station on Memorial Drive.
The SUV proceeded out Memorial Drive toward Watertown followed by a long train of police vehicles in pursuit. At one point during the pursuit, the two suspects opened fire on Watertown Police and MBTA Transit Police Officer Richard Donahue, who was shot and who remains in stable condition at a Boston-area hospital.
During the pursuit, the suspects tossed explosives, reports Fox News. Live explosive devices were left behind in the wake of the pursuit and are being neutralized by bomb techs.
Federal, state, and local officers have established a reportedly 10-mile-long perimeter in Watertown, Mass., and are searching building to building for the suspect, who may be driving a 1999 green Honda Civic with license place number 116GC7.
In a short press conference this morning, Massachusetts Gov. Deval Patrick urged the public throughout Boston and its suburbs to "shelter in place" and not open their doors for anyone except credentialed law enforcement. All public transit in the Boston area has been shut down.