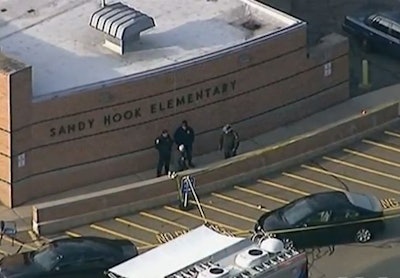 Investigators found guns, ammunition, and samurai swords in the home of Sandy Hook Elementary School gunman Adam Lanza, according to court documents released today.
Additionally, authorities said the 20-year-old shooter killed all 26 of his school victims within five minutes of entering Sandy Hook Elementary in Newtown, Conn., on Dec. 14. Lanza then turned the gun on himself.
In addition to the firearms, police found three samurai swords and a long pole with a blade on one side and a spear on the other in the gunman's home, reports Yahoo News. At the time of the shooting, Lanza was wearning military-style clothing and a bullet-proof vest.
Connecticut State's Attorney Stephen J. Sendensky III released a timeline of events leading up to the shooting that began when Lanza fatally shot his 52-year-old mother Nancy in her bed with a .22-caliber rifle.
Lanza shot his way into Sandy Hook Elementary, killing 20 children and six adults with a Bushmaster XM15 .223 rifle. Fourteen rounds remained in a 30-round magazine when police recovered the weapon.
Lanza took his own life with a single shot from a Glock 10mm handgun (likely the G20SF). Lanza also carried a 9mm SIG Sauer P226. Police recovered three full 30-round magazines for the Bushmaster. Six additional 30-round magazines and 154 spent .223 casings were also recovered.
Police found a loaded 12-guage shotgun from the passenger compartment of the car Lanza drove to Sandy Hook Elementary. At the Lanza home, investigators found an open gun locker and determined all the guns used in the shooting were purchased by Nancy Lanza.
The Connecticut State Police, Newtown Police Department and other state and federal law enforcement agencies continue to investigate the shooting. The final report is expected to be released this summer.
Read the search warrants here.