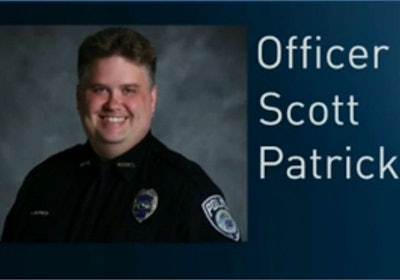 Brian Fitch Sr. will spend the rest of his life in prison after a Stearns County jury convicted him of the murder of Mendota Heights police officer Scott Patrick, reports the Pioneer Press.
The verdict was reached around 9:20 p.m. Monday following nine hours of deliberation. The jury also convicted Fitch of the attempted murder of three other officers and a bevy of lesser charges.
After hearing the verdict, Fitch unleashed a profanity-laden tirade at Dakota County District Court Judge Mary J. Theisen, accusing her of bias throughout the trial. At one point, he trailed off in the middle of sentence and muttered "oh my God."
The judge, unfazed, ordered him taken from the courtroom.
He'll be sentenced Wednesday in Dakota County; the first-degree murder conviction means life with no possibility of parole.
Patrick's friends and family, packed into the courtroom, broke into tears and applause after Fitch was taken away.
Related:
Jury Sees Video of Minnesota Officer's Shooting Death, Officers Testify
Minnesota Officer Shot, Killed During Traffic Stop
8 Miles of Mourners Expected to Honor Slain Minnesota Officer